This rustic dish shows how easy it is to braise any type of meat in a tomato sauce. The results are tender, flavourful and perfect for any type of pasta. This is a hearty meal in a bowl.
Yield: Serves 4
Ingredients
few splashes olive oil
6 skin-on & bone-in chicken thighs
4 Italian sausages
2 large onions, diced
1 whole head garlic cloves, peeled
1 red bell pepper, diced
1 green bell pepper, diced
1 cup your favourite red wine
1 28 ounce can tomatoes
1 teaspoon dried oregano
2 bay leaves
a sprinkle or two sea salt and freshly ground pepper
1 1 pound box favourite pasta
Procedure
Splash enough olive oil into a large sauce pot to cover the bottom with a thin film. Begin heating over medium-high heat.
Pat the chicken thighs dry with paper towels. Carefully add them to the pot, skin sides down. If there is still room, add the sausages. Patiently brown the chicken and sausages on both sides. When they are golden brown and beautiful, remove them from the pan and set aside on a plate.
Drain some of the fat from the pan and put it back on the heat. Add the onions and stir for a few minutes until their moisture dissolves any lingering brown bits on the bottom of the pan. When the onions begin to caramelize and turn golden brown, add the garlic. Continue cooking for a few minutes longer.
Return the chicken and sausages to the pan and then toss in the bell peppers. Pour in the wine and tomatoes and add the oregano and bay leaves. Season to taste with salt and pepper. Bring to a boil, then lower the heat just enough to maintain a simmer. Cover with a tight-fitting lid, and continue simmering until the chicken is cooked through and tender, about 1 hour or so.
When you are almost ready to serve, cook the pasta in lots of boiling salted water. Drain the pasta and pour into a large festive bowl, ladle the sauce over the pasta and serve immediately!
Variation
You may use any cut of chicken or type of sausage to make this dish. Beef short ribs work well too. Try adding a head of chopped fennel to the sauce along with the peppers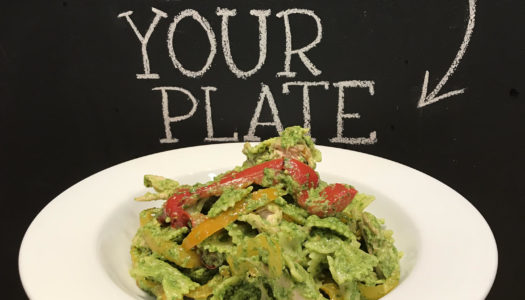 5 months ago
Running out of time to cook vegetables? You can make this delicious dish in the time it takes you to boil water and cook pasta. You just need a few delicious timesavers. Tricks like a simple pesto built on the snappy flavour of arugula or the convenience of a store-bought rotisserie chicken. And it doesn't take long to melt bell peppers. Save time and fill Half Your Plate with vegetables!
View Recipe
6 years ago
I love how my local grocery has chickens spinning and roasting, ready to take home and serve up. But don't stop there. You can stretch a rotisserie chicken into a hearty pot full of delicious soup for a crowd!
View Recipe