You haven't lived until you've slow roasted a tomato. This simple method unlocks the deepest possible flavour from just about any tomato. A long slow roast surrounded by lots of aromatic flavours easily melts whole baby tomatoes into a tasty sauce for your favourite pasta that more than fills Half Your Plate!
Yield: SERVES 4 TO 6
Ingredients
Ingredients
2 pounds of grape tomatoes
2 large yellow onions, thinly sliced
1 head of garlic cloves, thinly sliced
1 or 2 tablespoons (15 – 30 mL) of olive oil
1 tablespoon (15 mL) of dried oregano, thyme, or rosemary
1/2 teaspoon (2 mL) of salt
lots of freshly ground pepper
1 pound of your favourite pasta
1 small 5-ounce tote of baby spinach, arugula, chard or kale
Procedure
Preheat your oven to 375°F (190°C) and turn on your convection fan if you have one.
Toss the tomatoes, onions, garlic, olive oil, oregano, salt and pepper together. Pile the works into a 9×13 baking dish and roast, stirring every 20 minutes or so until deliciously caramelized and fragrant, about an hour.
Towards the end of the hour, cook off a box of your favourite pasta in lots of boiling salted water. Drain well. Immediately toss the baby spinach into the pot then cover with the steaming hot noodles. Top the works with the fresh-from-the-oven roast tomato sauce. Gently stir everything together until the spinach wilts.
© Chef Michael Smith – #HalfYourPlate
Variation
How To Twist
Fennel fan? Drop the oregano and add lots of fennel seeds. Really, really a fennel fan? Add a head of sliced fennel along with the fennel seeds.
Fennel fanatic? Add 4 or 5 sliced Italian sausages to the works. They're flavoured with – you guessed it – fennel seeds!
3 years ago
I will admit that I was not a big fan of brussels sprouts as a kid but now that I've discovered pan-roasting I'm seriously hooked on them. This easy method is by far my favourite way to cook them. They're so durable that you can easily caramelize them as they cook through. In this recipe they're deliciously joined by bright orange and crunchy cashews.
View Recipe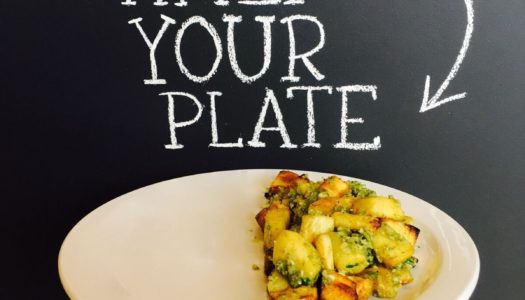 2 years ago
Parsnips are my all-time favourite root vegetable, which makes them ideal for roasting. Their sweet earthy flavour and firm texture are complemented with just a hint of delicious sharpness. My kids call them 'white carrots' and love when Dad fills up Half Their Plate with their tasty goodness.
View Recipe