From Chef Michael Smith's Kitchen, 2011
Searing sweet briny scallops to give them a golden brown crispy crust is an essential cooking method for any cook's seafood repertoire. The secret is a hot pan, a high-heat, rapid cooking trick mastered by busy restaurant line cooks. A hot pan not only browns the scallops but allows you to whip up a tasty wine sauce too.
Yield: Serves 4
Ingredients
1 pound (500g) or more of large fresh sea scallops, small tough side muscle removed, patted dry
1 cup (250 mL) of all-purpose flour
a sprinkle or two of salt and lots of freshly ground pepper
1 tablespoon (15 mL) of any cooking oil
2 tablespoon (30 mL) of butter
4 garlic cloves, thinly sliced
2 green onions, white and green parts thinly sliced separately
1 cup (250 mL) of your favourite dry wine
1 teaspoon (5 mL) of Dijon mustard
1/2 cup (125 mL) of whipping cream
Procedure
Preheat your largest, heaviest frying pan over medium-high heat for a few minutes. Meanwhile, toss the scallops in the flour and season them to your taste with salt and pepper. Splash the oil into the hot pan, gently swirling until the oil is shimmering hot but not smoking. Add the butter to the side of the pan where the oil gathers and pools. When the butter has melted, swirl the pan for a moment or two until the butter just begins to brown and sizzle.
When the butter is golden brown and fragrant, quickly add the scallops one at a time, in a single layer with a bit of space in between. Watch and listen to the still-browning butter. Adjust the heat so it's high enough to maintain a sizzling sear but not so high that the butter begins to burn. Continue searing the scallops, turning them once, until they're evenly browned on both sides, 5 to 7 minutes. Transfer the caramelized scallops to a platter and cover loosely with foil to keep warm.
Toss the garlic and the white part of the green onions into the pan and sauté them briefly until they're soft and aromatic, 2 minutes or so. Pour in the wine and simmer until half of it has evaporated. Whisk in the mustard, then stir in the cream and reduce until the sauce smoothes and thickens, another minutes or two. Remove from the heat and stir in the green onion tops. Pour the sauce over the scallops.
Serve and share!
© Chef Michael Smith, Chef Michael Smith's Kitchen, 2011
6 years ago
When you steam off a pile of mussels they release a hearty broth that forms the base of soups all over the world.
View Recipe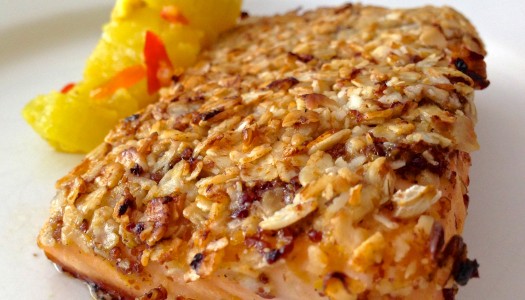 3 years ago
This recipe is a quick and delicious way to celebrate a few of Canada's iconic ingredients. A quick glaze of maple syrup and mustard brings the sweet and savoury, and the oats creates a hearty and whole crust. Serve it alongside other Canadian favourites, like Prince Edward Island potatoes!
View Recipe