Today's mainstream pork is very lean, so it can dry out very quickly as it cooks. The trick to tender pork chops that stay moist and juicy is a simple two-step cooking method. Begin cooking with high heat, then finish, covered, with low heat. And a savoury twist on classic applesauce won't hurt either!
Yield: serves 4
Ingredients
for the applesauce:
1/4 cup olive oil
4 onions, peeled and thinly sliced
4 of your favourite apples, cored and cut into chunks
1/4 cup apple cider vinegar
1 tablespoon fresh rosemary
a sprinkle or two sea salt and freshly ground pepper
For the pan-roasted pork chops
4 thick centre-loin pork chops
2 tablespoons Butter
1 tablespoon any vegetable oil
a sprinkle or two sea salt and freshly ground pepper
Procedure
For the applesauce, heat the oil in a small saucepan. Add the onions and patiently cook them, stirring occasionally until they are caramelized and turn golden brown. Add the apple chunks, apple cider vinegar, rosemary and salt and pepper. Stir well. Simmer until the apples are very soft. Serve warm, or refrigerate and serve chilled.
For the pork chops, preheat a large sauté pan over medium-high heat. Splash in the oil and toss the butter into the centre of the oil. This will help keep the butter from burning. Pause until the butter begins to brown.
Meanwhile, pat the chops dry using paper towels, then season them with salt and pepper and carefully place them into the hot pan. Sear for 2 minutes or so on each side. Reduce heat to medium-low, cover and cook for another 10 minutes.
Variation
Try adding a spoonful or two of grainy mustard or horseradish to the applesauce.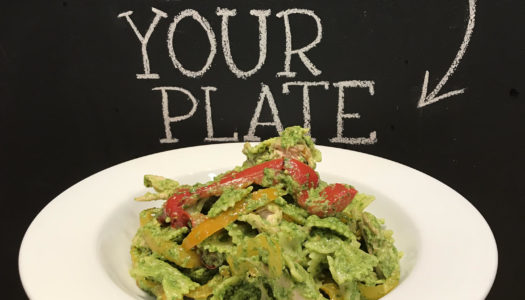 1 year ago
Running out of time to cook vegetables? You can make this delicious dish in the time it takes you to boil water and cook pasta. You just need a few delicious timesavers. Tricks like a simple pesto built on the snappy flavour of arugula or the convenience of a store-bought rotisserie chicken. And it doesn't take long to melt bell peppers. Save time and fill Half Your Plate with vegetables!
View Recipe
8 years ago
Long ago, the cooks of the world discovered the efficiency of simmering tough meat in tenderizing water. They also discovered that they could add lots of local flavour to make the results more interesting. Today, beef stews are a part of cuisines and cultures around the globe. This one features the bright familiar flavours of the Southwest.
View Recipe