This is one of the easiest ways to cook any type of fish. It's also one of the tastiest, and fastest. Perhaps more than any other technique, this is how I choose to get fish on the table in a hurry. Whitefish is a generic term that refers to many different types of fish, all of them easy to find and cook.
From The Best of Chef at Home © Michael Smith, Whitecap 2009
Yield: Serves 4 - 6
Ingredients
1 cup whole wheat or any flour
sprinkle or two sea salt and freshly ground pepper
1 tbsp paprika
1 tbsp any dried herb or spice
1 zest and juice of a lemon
4 – 6 (2 pounds) white fish fillets
large splash vegetable oil
2 tablespoons Butter
Procedure
Preheat your largest, heaviest sauté pan or skillet over medium-high heat. A heavier pan will distribute the heat more evenly than a thin one.
Whisk together the flour, salt and pepper, paprika, herb and lemon zest.
Pour the seasoned flour into a shallow dish large enough to hold 1 or 2 fish fillets. Depending on the size of the fillets, and your guests' inclination to share, cut the fish into individual portions or leave whole.
Dredge fillet pieces in the seasoned flour until they are evenly coated. Rest on a pan or plate but don't stack them on top of one another.
Pour a large splash of vegetable oil into the pan, enough to cover the pan's bottom in a thin film. Add the butter to the centre of the oil. The oil will protect the delicate butter from burning, and the butter will add lots of brown flavour. When the butter begins to brown and sizzle, swirl it around the pan and quickly add the fish fillets. Turn up the heat, adjusting it as needed to keep the pan sizzling hot.
Cook the fish in batches so they will all brown evenly. Cook the first side of the fillets for a few minutes until they're golden brown and beautiful. Carefully flip them and continue with the other side. You may find it useful to add a bit more butter after you flip the fish over.
Continue until the fish cooks through. Add the lemon juice and swirl the pan. It will sizzle, form a quick sauce with the butter and coat each fillet. Serve immediately.
Variation
This method is excellent for any whitefish: halibut, hake, haddock, sole, cod, flounder or tilapia. You can add lots of personalized flavour to the seasoned flour. Try replacing half or more of the flour with fine cornmeal. Dill, thyme, tarragon and oregano all work well as fresh herbs while chili powder, curry powder, ground cumin and red pepper flakes all make excellent spices. My all-time favourite addition, though, is a paprika-based spice blend commonly found along the southern Atlantic coastline: Old Bay Seasoning.
5 years ago
Few things are as good as a steaming bowl of homemade macaroni and cheese, especially when it doesn't come out of a box. There's something very satisfying about making this classic dish yourself. And it tastes a whole lot better than anything made in a factory!
View Recipe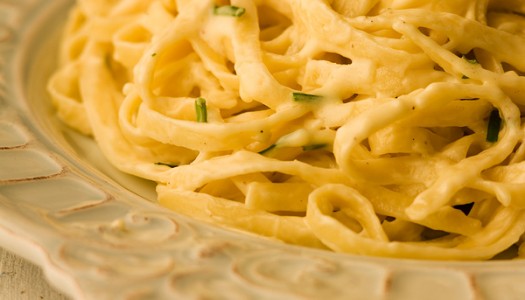 5 years ago
This classic dish is elegantly tasty, simple and super speedy. The creamy, cheesy sauce that makes Fettuccini Alfredo so memorable easily forms when great Parmesan cheese and a splash of cream are simply tossed together with hot noodles and aromatics. This dish is at its best when you make it and serve it immediately.
View Recipe