If you like golden brown crispy crusty potatoes, then this dish is for you. It was originally created as a way to use up leftover boiled or baked potatoes, but it's so good that you'll soon be cooking potatoes just so you can smash and crisp 'em.
Yield: For each person you'll need:
Ingredients
1 leftover baked or boiled skin-on potato
1 tablespoon oil for each potato
a sprinkle or two sea salt and freshly ground pepper
Procedure
Preheat your oven to 450 °F (230 °C).
Place the cooked potatoes on a lightly oiled rimmed baking sheet. Push down on each potato with a small flat plate until the potato smashes and spreads out to about twice its original size. You may also use a potato masher if you have one. If a few pieces get loose just push them back into the rest of the works.
Brush or drizzle each potato with 1 tablespoon (15 mL) of oil, then season with salt and pepper. Bake until the exposed potato flesh transform into a crispy golden masterpiece, about 30 to 40 minutes.
Variation
If you don't have any leftover potatoes, simply bake a few until tender in a 400 °F (200 °C) oven. Alternatively, steam or microwave them. For any freshly cooked potato, it's best if you cool it first. A cool potato doesn't crumble as much when it's smashed; it tends to stay together in one big smashed piece. Along with the salt and pepper, try sprinkling whole fennel seeds over the potatoes. You'll love their soft chewy texture and delicate licorice-like flavour.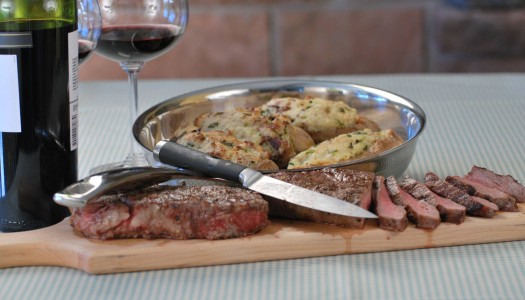 7 years ago
The only thing better than a grilled NY steak, is a grilled NY steak sitting next to a twice baked potato. Especially when its' oozing with Boursin cheese, bacon and sharp horseradish! Did I mention the bacon?
View Recipe
2 years ago
This time-honoured meal-in-a-pan is a wonderfully tasty way to show off your favourite potatoes any time of the day. Toss in some crisp bacon, crack in a few eggs and you're ready to fill Half Your Plate with breakfast, lunch or dinner. Next level? For a full plate of flavour just top with a few handfuls of your favourite simple salad!
View Recipe