My favourite dessert is a thick slice of just-baked pie, with apples fresh from our local orchard, and still warm from the oven. But I'm always careful to save a thick wedge because I believe apple pie is at its best the next morning for breakfast. I prefer an easy-to-make butter pastry crust. Its secret is frozen butter, which adds flavour and is much easier than shortening to "cut" into the flour.
Yield: serves 6 - 8
Ingredients
for the pastry:
2 1/2 cups all-purpose flour
2 tablespoons white sugar
1 teaspoon salt
2 sticks frozen butter
6 – 8 tablespoons ice water
for the filling:
6 or 8 large Honey Crisp or Granny Smith apples, peeled, cored and sliced
1/2 cup brown sugar
2 tablespoons all-purpose flour
1 teaspoon ground cinnamon
Procedure
Whisk the flour, sugar and salt together in a large bowl.
Using a standard box or potato grater, grate the frozen butter into the flour and toss lightly with your fingers until it's thoroughly combined. Sprinkle in the ice water and stir with your fingers, mixing and firmly kneading until the dough comes together in a ball.
Divide dough into 2 pieces; making sure that one half is slightly larger than the other. Wrap in plastic wrap, flatten and chill for at least 30 minutes, or even overnight. Resting tenderizes the pastry, making it easier to roll.
Remove the pastry from the refrigerator and allow it to warm slightly, just until it's pliable. Lightly flour your hands, the rolling pin, your work surface and the dough.
Roll out the larger pastry piece into a circle large enough to slightly overlap the edges of a 9-inch glass deep-dish pie dish. As you roll, for ease of handling, lightly flour the dough every time its diameter doubles, then flip it over and continue rolling. Transfer the dough to the pie dish by folding it into quarters then unfolding it in the dish.
Preheat your oven to 375 °F (190 °C).
Toss the apple slices with the brown sugar, flour and cinnamon. Add the apple mixture to the bottom crust. Roll out the remaining smaller piece and carefully place it over the top of the pie.
Roll and crimp the edges of the dough together, tightly sealing them. Poke a few vent holes into the top of the pie and place on the bottom rack of oven.
Bake for an hour or so, until the crust is golden and the juices are bubbling.
Variation
You may use any apples of your choice and, for extra flavour, try tossing the apples with a cup or so of raisins. For another seasonal treat, try substituting 2 1/2 lb of peeled and sliced ripe local peaches for the apples.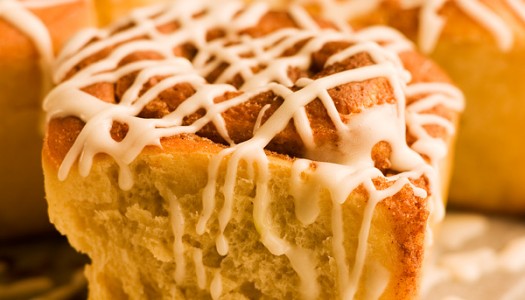 8 years ago
Few things say "Good Morning" better than a batch of warm-from-the-oven cinnamon rolls! You can bake them with speedy baking powder, but an old-school yeast dough always has the best texture and flavour.
View Recipe
9 years ago
Here's a chewy tropical treat that's so easy to make you'll think you're forgetting something! I always make a big batch so there's a lot to share but it's just as easy to cut the recipe in half. Your family and friends will love the addictive chewy texture and you'll love how easy they are to make!
View Recipe