This is my favourite way to toss together the amazing flavours of a Niçoise salad and skip the traditional fussy arrangement of the ingredients. My kids aren't big fans of visible anchovies and don't know that they're hidden in the powerfully flavoured dressing loaded with tangy lemon, bright parsley and aromatic basil. They just know they love this salad and I love that it's a whole meal in a bowl!
Yield: Makes 6 to 8 mains or 8 to 12 sides
Ingredients
For the salad
1 pound (450 g) of baby potatoes, halved
1 pound (450 g) of green beans, ends trimmed and halved
1 pint (500 mL) of cherry tomatoes, halved
1 large cucumber, cut in half lengthwise then into slices
1 red onion, thinly sliced
2 cans (6 ounce / 170g each) of tuna, preferably solid or chunk
1 cup (250 mL) or so of your favourite Kalamata style black olives, pitted
The leaves from a large bunch of fresh basil
For the dressing
1/2 bunch of parsley, leaves and tender stems
1/4 cup (60 mL) of extra virgin olive oil
The zest and juice of 2 lemons
A 2-ounce (55 g) can of whole anchovies
2 tablespoons (30 mL) of Dijon mustard
2 tablespoons (30 mL) of honey
2 cloves of garlic, smashed
Procedure
Bring a large pot of salted water to a full, furious boil. Slip in the potatoes and cook them until they're almost tender, 10 minutes or so. Add the green beans and continue simmering until a fork easily pierces the potatoes and the green beans have brightened without softening, 3 or 4 minutes longer. Drain the potatoes and green beans and spread them into a single layer on a baking sheet and cool in your fridge.
Craft the dressing while the potatoes and beans cool. Toss the parsley, olive oil, lemon juice and zest, anchovies and their oil, Dijon mustard, honey and garlic into a food processor or blender and purée until smooth.
In a large salad bowl, combine the potatoes, green beans, cherry tomatoes, cucumber, red onion, tuna, olives and basil. Pour the dressing over the salad and toss until it is lightly coated and well combined. Serve and share.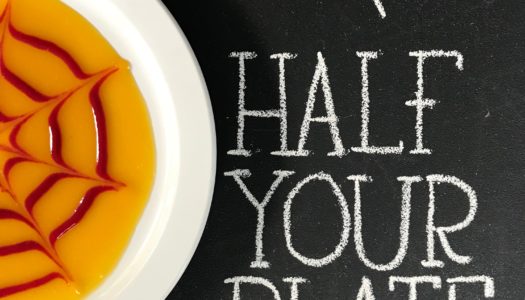 3 months ago
Every chef knows how easy it is to jazz up dessert by pureeing fruits into simple sauces. With just a few simple ingredients, a bit of gentle heat and a strong blender you too can transform almost any ripe fruit into a colourful backdrop for almost any dessert. Apricot uniquely creates the smoothest sauce of them all though. Its' juicy tender flesh and fresh aromatic flavour go well with everything. Even at dessert you can fill Half Your Plate!
View Recipe
3 years ago
You haven't lived until you've slow roasted a tomato. This simple method unlocks the deepest possible flavour from just about any tomato. A long slow roast surrounded by lots of aromatic flavours easily melts whole baby tomatoes into a tasty sauce for your favourite pasta that more than fills Half Your Plate!
View Recipe