This is my favourite way to toss together the amazing flavours of a Niçoise salad and skip the traditional fussy arrangement of the ingredients. My kids aren't big fans of visible anchovies and don't know that they're hidden in the powerfully flavoured dressing loaded with tangy lemon, bright parsley and aromatic basil. They just know they love this salad and I love that it's a whole meal in a bowl!
Yield: Makes 6 to 8 mains or 8 to 12 sides
Ingredients
For the salad
1 pound (450 g) of baby potatoes, halved
1 pound (450 g) of green beans, ends trimmed and halved
1 pint (500 mL) of cherry tomatoes, halved
1 large cucumber, cut in half lengthwise then into slices
1 red onion, thinly sliced
2 cans (6 ounce / 170g each) of tuna, preferably solid or chunk
1 cup (250 mL) or so of your favourite Kalamata style black olives, pitted
The leaves from a large bunch of fresh basil
For the dressing
1/2 bunch of parsley, leaves and tender stems
1/4 cup (60 mL) of extra virgin olive oil
The zest and juice of 2 lemons
A 2-ounce (55 g) can of whole anchovies
2 tablespoons (30 mL) of Dijon mustard
2 tablespoons (30 mL) of honey
2 cloves of garlic, smashed
Procedure
Bring a large pot of salted water to a full, furious boil. Slip in the potatoes and cook them until they're almost tender, 10 minutes or so. Add the green beans and continue simmering until a fork easily pierces the potatoes and the green beans have brightened without softening, 3 or 4 minutes longer. Drain the potatoes and green beans and spread them into a single layer on a baking sheet and cool in your fridge.
Craft the dressing while the potatoes and beans cool. Toss the parsley, olive oil, lemon juice and zest, anchovies and their oil, Dijon mustard, honey and garlic into a food processor or blender and purée until smooth.
In a large salad bowl, combine the potatoes, green beans, cherry tomatoes, cucumber, red onion, tuna, olives and basil. Pour the dressing over the salad and toss until it is lightly coated and well combined. Serve and share.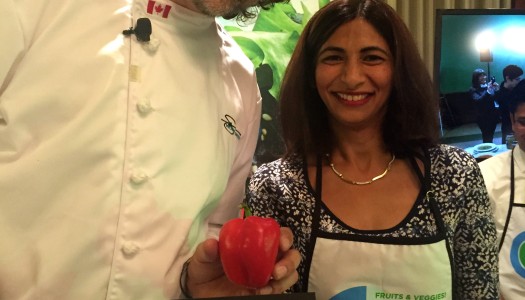 3 years ago
One of the best ways to fill Half Your Plate (and all of your soup bowl) is with a simple pureed soup. They're a time-honoured and super-simple way to get a whole lot of vegetable flavour on the table in a hurry – maybe even hide vegetables from finicky eaters. This one was custom created by Honourable Dipika Damerla with Chef Michael Smith's coaching!
View Recipe
3 years ago
You can enjoy the bright red flavours and intense nutritional density of these two harvest ingredients brought together in one distinctive dish. In this recipe they serve both as a delicious side dish and a tasty condiment. Red Cabbage has an amazing ability to absorb other flavours while retaining its texture. Cranberry and the traditional flavours of cranberry sauce make this the perfect side dish for holiday turkey or everyday chicken or pork!
View Recipe