Cherries pack a powerful nutritional punch that always delivers big bold flavour. Mulling them with warm spices and red wine adds lots of aromatic personality too. Mulled cherries are excellent over ice cream, in shortcake or anchoring a simple parfait. Adding the protein power of true yogurt and crunchy granola to any fruit really kick-starts your day. Especially with a flourish of real creamsicle flavour: pure orange and vanilla working their old-school magic in guilt-free yogurt! #HalfYourPlate
Yield: Makes 1 Liter Mulled Cherries> Enough for 8 parfaits> Wide-mouth 250ml mason jars work best
Ingredients
For a big batch of Mulled Cherries
1 cup of your favourite red wine, grape juice or orange juice
1/4 cup of sugar
1/2 teaspoon of ground cinnamon
1/2 teaspoon of ground cardamom
1/4 teaspoon of ground allspice
1 bay leaf
2 lbs. cherries, stemmed and pitted
For the Creamsicle Yogurt Parfaits
8 ea. 250 ml. wide-mouth Mason jars
the chilled mulled cherries
2 cups of plain, unsweetened, additive-free, full-fat, real yogurt
1/2 teaspoon of pure Vanilla extract
the zest of 1 orange
2 cups or so of your favourite granola
Procedure
Mull the cherries. Pour the wine, sugar and spices into a saucepot and bring to a full, furious boil. Turn off the heat, cover tightly, and prep the cherries as the flavours infuse. Simply squeeze each one over a juice-catching bowl until the pit pops out. After 15 minutes or so add the fruit to the syrup then bring the works to a brief but full furious boil. Pour into mason jars, large for storage or small for individual parfaits. Refrigerate.
Craft parfaits. Stir together the yogurt, orange zest and vanilla. Top the cherries. Finish with a thick layer of old-fashioned granola and dig in with gusto.
Kitchen Tips>
Breakfast is the perfect time of day to fill Half Your Plate with any fruit, especially cherries. Their intense colour reveals how loaded they are with nutrition. Anthocyanins, vitamins, anti-oxidants and other micronutrients. Best part? They're naturally sweet too. Enjoy!
© Chef Michael Smith – #HalfYourPlate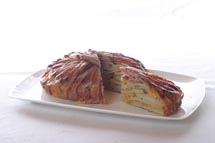 8 years ago
I've been making this dish for a long time. It's a bit involved but it remains one of the most impressive potato dishes I know. This special occasion treat features the classic trio of potatoes, bacon and cheddar. It will take you a while to make, but the results are more than worth it. It's the sort of thing that looks complicated until you try it and quickly realize how simple it is to master.
View Recipe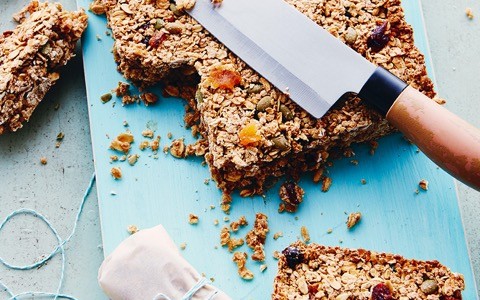 3 years ago
Need a little mid-morning or mid-afternoon boost? Skip the candy aisle and instead stir whole-grain goodness into a batch of these super-simple, super-tasty granola bars. Artfully wrap and tie individual bars for some added flairand lovingly tuck a handwritten note inside.
View Recipe