This dish is on my table's top-ten list, and not just because it's easy to make and tastes great. Sweet potatoes are one of the healthiest vegetables you can eat. They're packed with a laundry list of nutrients and always taste great, especially with aromatic olive oil instead of rich butter.
Yield: Serves 4 - 6
Ingredients
4 sweet potatoes (unpeeled)
1 cup maple syrup
1/4 cup olive oil
a sprinkle or two sea salt and freshly ground pepper
2 green onions, minced
Procedure
Bake the sweet potatoes at 400 °F (200 °C) until they're tender and soft, 45 minutes or so.
Toss the unpeeled baked sweet potatoes into a bowl and splash in the maple syrup and olive oil. Mash well and then season with salt and pepper. Stir in the green onions and serve immediately.
Variation
You may remove the skins if you like; you'll lose some nutrients but not enough to really matter. Try tossing in some of your favourite fresh herb: thyme, tarragon, cilantro, oregano, basil, chives and parsley all work very well.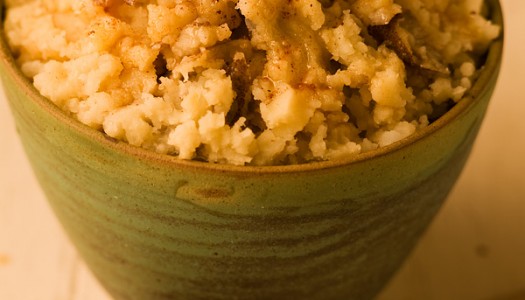 8 years ago
There are as many ways to flavour mashed potatoes as there are cooks. These are my gold standard. They're simple, with a twist: brown butter. You won't believe how much flavour is locked into a stick of butter, but you will believe these are the best mashed spuds you've ever had.
View Recipe
8 years ago
In India, aloo gobi means "potato cauliflower": it's one of their most common vegetable dishes. It's one of my family's favourites too, partly because it's so easy to make, but mostly because it's full of so much addictive bright flavour. It's normally made with plain white potatoes and cauliflower, but, for even more colour, flavour and nutrition, this version uses sweet potatoes instead.
View Recipe