Beans have the wonderful ability to absorb lots of flavour while they slowly bake. They're nutritious, tasty and easy.
Yield: Serves 4 - 6
Ingredients
2 cups dried navy or white beans, soaked in lots of cold water overnight
2 cups water
1 cup maple syrup
6 slices thick-cut fried bacon, diced, fat reserved
1 or 2 large onions, peeled and diced
1 tablespoon powdered ginger
2 tablespoons any mustard
a dash or two Worcestershire sauce
a sprinkle or two sea salt and freshly ground pepper
1 tablespoon any vinegar
Procedure
Cover the beans in water and soak over night. Strain the beans out of their soaking water and give them a good rinse. No nutrients are lost in the soaking and rinsing; instead, the beans rehydrate, which will speed up their cooking time.
Toss the beans into a saucepan and cover them with cold water. Bring to a boil and then reduce the heat and simmer, covered until the beans are tender, about an hour or so.
Drain the beans and place them in a 4-quart ovenproof baking dish with a tight-fitting lid. Add the water, maple syrup, bacon, onions, ginger, mustard, Worcestershire sauce and salt and pepper. Add as much or as little of the reserved bacon fat as you care to.
Cover and place in the oven at 250 degrees and bake until the beans have absorbed most of the liquid and are tender, about 3 hours or so. Feel free to add a bit more water if the beans seem dry.
Stir in the vinegar just before serving.
Variation
Try adding a spoonful or so of your favourite chopped fresh herb. Rosemary and thyme work very well. You can also use a spoonful or so of chili powder or curry powder.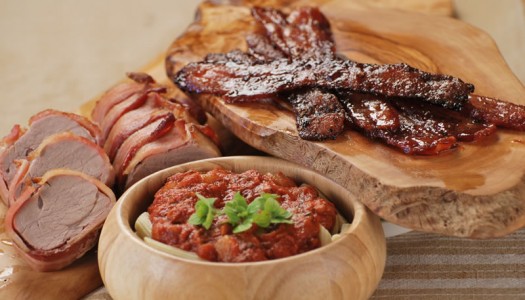 7 years ago
What ingredient gets my heart pounding every time I haul it out, makes everything else taste amazing and is so popular entire websites are devoted to it? Bacon! Here are my three favorite ways to show it off.
View Recipe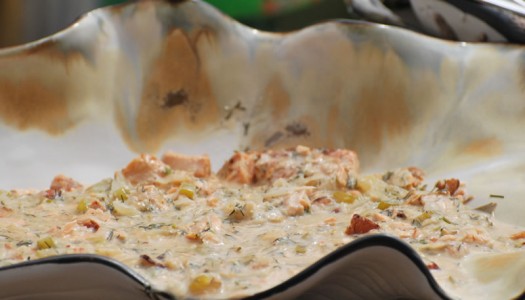 7 years ago
Around here chowder is about as common as ants at a picnic. We don't waste a whole lot of time worrying whether it's authentic or not either. Better to focus on flavor, which might just lead you to an uncommonly good chowder!
View Recipe