Few things are as good as a steaming bowl of homemade macaroni and cheese, especially when it doesn't come out of a box. There's something very satisfying about making this classic dish yourself. And it tastes a whole lot better than anything made in a factory!
Yield: Serves 4 - 6
Ingredients
1 1 pound box penne pasta
1/2 stick Butter
2 cloves garlic, chopped
2/3 cup all-purpose flour
a big splash white wine
4 cups milk
1 12 ounce can unsweetened evaporated milk, or 1 1/2 cups regular milk
1 pound medium aged cheddar cheese, shredded
2 tablespoons Dijon mustard
1 tablespoon paprika
a pinch cayenne pepper
a sprinkle or two salt
1/2 loaf Italian bread, torn into large pieces
a generous splash olive oil
Procedure
Preheat your oven to 350°F (180°C).
Meanwhile, cook the pasta in lots of boiling salted water.
To make the sauce, melt the butter in a saucepan over medium heat. Add the garlic and stir for several minutes until it softens and flavours the butter. Add the flour and stir with a wooden spoon until a smooth paste forms (the roux). Combining the butter and flour into a roux first helps evenly distribute the flour throughout the sauce and prevents lumps.
Continue cooking a few more minutes as the roux toasts and develops a bit of flavour. Slowly stir in the wine and continue stirring until the mixture is smooth again.
Add both milks and switch to a whisk, mixing until the sauce is smooth again. Continue whisking until the mixture is very thick, a few minutes longer.
Stir in the cheeses, Dijon mustard, paprika, cayenne pepper and salt. Stir the cooked pasta into the cheese mixture. Pour everything into a 9- x 13-inch (3.5 L) ovenproof casserole or baking dish.
Toss the bread with a splash or two of olive oil, then sprinkle it evenly over the top of the cheese mixture. Bake until it is heated through and the bread topping is [AU: replaced "breadcrumbs are"] golden brown, about 30 minutes.
Cooking Pasta
As pasta cooks it will absorb the salt water and, in turn, be properly seasoned. A pinch or two of salt is not enough! Taste the water; it should remind you of a day at the beach. Cook the pasta until it's al dente—tender but still quite a bit firm in the centre; it will finish cooking in the sauce. Drain it well, but don't rinse, or you'll drain away the surface starch that helps the sauce cling to it.
Variation
Try substituting the cheddar with other semisoft cheeses like Swiss, Jack or Emmenthal. Just about any minced fresh herb will add a wonderful aroma to the cheese sauce. I like dill, tarragon or thyme. For an extra special decadent version, stir in the meat from several cooked lobsters.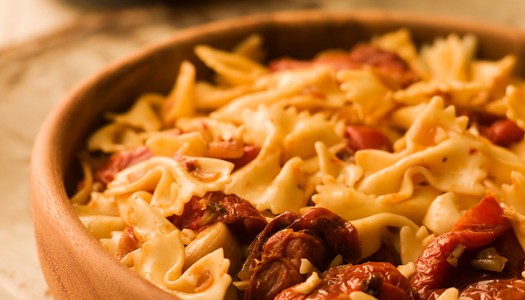 5 years ago
You haven't lived until you've roasted tomatoes with onions and garlic and tossed them with pasta! Roasting reveals a deep, satisfying flavour hidden in tomatoes. This will become one of your favourite ways to dress up pasta. My family loves the simple rustic flavours of this dish, and I'm sure yours will too.
View Recipe
5 years ago
One of the easiest ways to cook any type of fish is to simply simmer it in a flavourful liquid. And if that liquid just happens to taste like a classic cocktail, all the better! This dish tastes like a special occasion, but you can actually put it together in minutes.
View Recipe