If you like ketchup as much as I do, you'll love this recipe for homemade ketchup. It's packed with so much aromatic goodness that you'll wonder why you ever used store-bought. It's the best way to jazz up a burger and fries and feel good all the other times you reach for ketchup!
Yield: 4 Cups
Ingredients
1 28 oz can of chopped tomatoes
1 5.5 oz can tomato paste
1 large onion, chopped
1 cup red wine vinegar
1/2 cup sugar
1/2 cup olive oil
2 tablespoons ground nutmeg
1/2 teaspoon ground allspice
2 or 3 bay leaves
a sprinkle or two Salt and Pepper
Procedure
Toss all the ingredients into a large saucepan. Place over medium heat and bring to a simmer. Continue cooking, stirring occasionally, until the mixture reduces one-half, about 30 minutes.
Here's a trick to determine whether a liquid has reduced by half. In this recipe, stand a wooden spoon in the pot and mark the ketchup's level on it. Use that mark as a reference to know when the mixture has reduced by half.
Cool the ketchup to room temperature (an agitated hot liquid always expands violently; it'll explode all over your kitchen and make a huge mess), and then purée the mixture in a food process, blender or in the pot using an immersion blender.
Get some French fries and start dipping!
Variation
If you're a fan of garlic, toss a whole head of peeled cloves into the pot. After the sauce is reduced, try adding your favourite hot sauce until the ketchup is pleasingly spicy.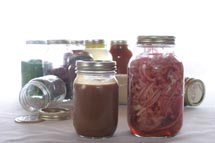 8 years ago
These tasty onions lose all their pungency in the pickling process but gain a sweet sharpness that makes them a great last minute addition to any salad. They're a multi-purpose condiment and are delicious with any type of fish.
View Recipe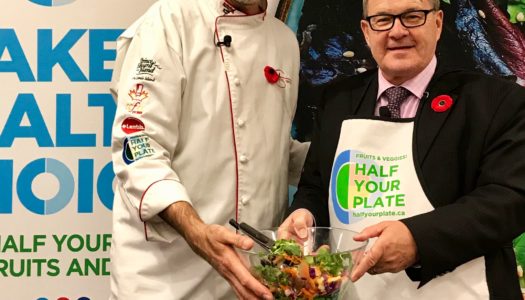 7 months ago
You can fill more than Half Your Plate and create your own salad with this recipe. Chefs know that the art and craft of filling a salad bowl is one of the greatest expressions of the culinary arts. Home cooks love how easy it is to cram the salad bowl with healthy flavours. Everyone enjoys emptying the bowl. You'll love knowing you have plenty of delicious dressing leftover for the next salad and nothing beats impressing yourself in your own kitchen! This one was custom created by Honorable Lawrence MacAulay with Chef Michael Smith's coaching!
View Recipe