If you like ketchup as much as I do, you'll love this recipe for homemade ketchup. It's packed with so much aromatic goodness that you'll wonder why you ever used store-bought. It's the best way to jazz up a burger and fries and feel good all the other times you reach for ketchup!
Yield: 4 Cups
Ingredients
1 28 oz can of chopped tomatoes
1 5.5 oz can tomato paste
1 large onion, chopped
1 cup red wine vinegar
1/2 cup sugar
1/2 cup olive oil
2 tablespoons ground nutmeg
1/2 teaspoon ground allspice
2 or 3 bay leaves
a sprinkle or two Salt and Pepper
Procedure
Toss all the ingredients into a large saucepan. Place over medium heat and bring to a simmer. Continue cooking, stirring occasionally, until the mixture reduces one-half, about 30 minutes.
Here's a trick to determine whether a liquid has reduced by half. In this recipe, stand a wooden spoon in the pot and mark the ketchup's level on it. Use that mark as a reference to know when the mixture has reduced by half.
Cool the ketchup to room temperature (an agitated hot liquid always expands violently; it'll explode all over your kitchen and make a huge mess), and then purée the mixture in a food process, blender or in the pot using an immersion blender.
Get some French fries and start dipping!
Variation
If you're a fan of garlic, toss a whole head of peeled cloves into the pot. After the sauce is reduced, try adding your favourite hot sauce until the ketchup is pleasingly spicy.
3 years ago
Pesto is an intensely flavored condiment traditionally made from fresh green herbs, nuts, cheese and olive oil. It's an incredibly easy way to add a big, bright boost of fresh flavor to nearly any dish. This version is less expensive than the classic Genovese blend of basil, pine nuts and Parmigiano-Reggiano, but with spicy arugula, peperoncini and almonds it's just as flavorful. You can just as easily incorporate traditional fresh basil into the works if you like. Either way, you'll discover that a little goes a long way.
View Recipe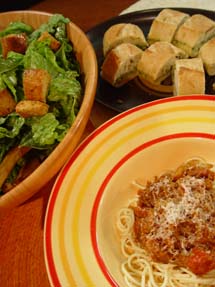 8 years ago
If you're a home cook you need a good meat sauce recipe up your sleeve. This is one of mine. Its secret is that I don't brown the meat. That way it doesn't toughen and need hours of braising to tenderize again. I also use a food processor to save a lot of knife work. Quick, easy and tasty!
View Recipe