You can fill more than Half Your Plate with this traditional Kenyan dish. It's a complete vegetarian meal and so tasty that you just might end up filling all your plate. It's often made with old-fashioned maize but even tastier with sweet corn.
Yield: Serves 4 to 6
Ingredients
6 ears of corn
A large bunch of kale
1 tablespoon (15 ml) of vegetable oil
2 onions, freshly chopped
3 cloves of freshly minced garlic
1 tablespoon (15 ml) of curry powder
A 28-ounce (796 ml) can of diced or chopped tomatoes
a 14-ounce can of your favourite beans or chickpeas, drained, rinsed well
1 teaspoon of salt
1 teaspoon of your favourite hot sauce
Procedure
Prep the corn and kale. Shuck each ear then stand up in a large mixing bowl to contain mess. Hold steady with one hand and with the other carefully trim the sweet kernels into the bowl. For the kale, trim the sturdy stem from the center of each leaf. Dice finely. Roll the leaves and slice them thinly.
Splash the oil into a small pot over medium-high heat then toss in the onions and garlic.
Cook, stirring frequently, until the aromatic vegetables are lightly browned and delicious, just 3 or 4 minutes. Sprinkle in the curry powder and stir for a moment or two as its bright flavours emerge. Add the tomatoes, corn and beans. Season with the salt and hot sauce. Bring to a slow, steady simmer. Stir in all the kale and continue cooking until it's tender and bright green, 10 minutes or so. Serve and share!
Kitchen Tips
Canned beans are a super simple way to amp up the fiber and flavour on your plate.
Choose low-sodium versions and rinse well before use. Don't worry though, you won't remove the flavour, micronutrients or fiber in the beans.
© Chef Michael Smith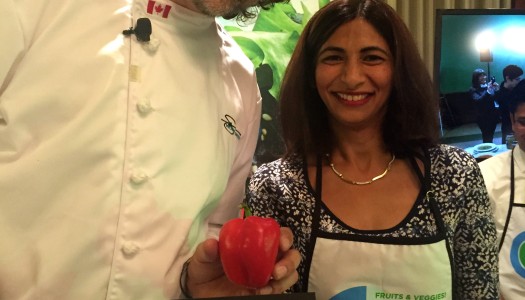 3 years ago
One of the best ways to fill Half Your Plate (and all of your soup bowl) is with a simple pureed soup. They're a time-honoured and super-simple way to get a whole lot of vegetable flavour on the table in a hurry – maybe even hide vegetables from finicky eaters. This one was custom created by Honourable Dipika Damerla with Chef Michael Smith's coaching!
View Recipe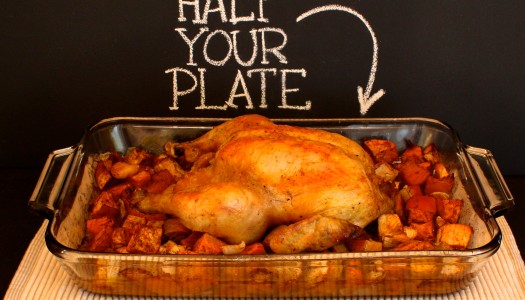 3 years ago
There are as many ways to roast a chicken as there are cooks. This basic method is my favourite. Roasting the chicken perched on top of a thick bed of vegetables not only helps you prepare an entire meal at once but also guarantees that not a drop of flavour is lost. You can also skip all the normal laborious of slicing by simply shredding the meat into the works and tossing together a pan stew of sorts!
View Recipe