Cocoa powder gives chocolate its rich flavour and makes this steaming mug of hot cocoa my favourite winter treat. A touch of cayenne pepper balances the temperature heat of the brew but doesn't make it too spicy. It's a surprising twist that adds just the right exotic edge.
Yield: Serves one
Ingredients
1 cup milk
1 heaping spoonful cocoa powder
1 heaping spoonful brown sugar
1 handful dark chocolate chips
1 dribble vanilla
NULL tiny pinch cayenne pepper
Procedure
Pour everything into a small pot and whisk until well combined. Bring to a simmer over a medium heat. Whisk a bit more to froth it up a bit.
Pour into your favourite mug and find a comfy chair to enjoy it in!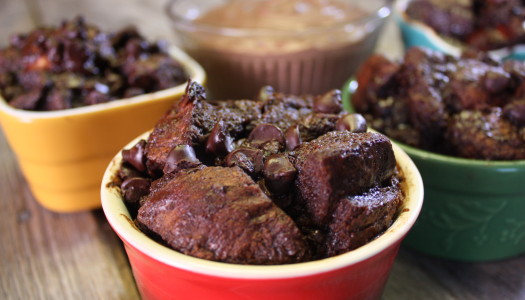 2 years ago
It's fun to try new ideas and it's always fun to freestyle cook. And it's particularly fun to stir every form of chocolate into one bread pudding. I admit sometimes I feel the need to go overboard a little bit and even push some limits, but the kitchen is a really safe place to do that, and a fun place too. Once you know the bread pudding rules, you can break them all day long. Who knows? You might just end up with Five Chocolate Bread Pudding with Chocolate Whipped Cream.
View Recipe