Yield: Makes 2 cups
Ingredients
2 tablespoons olive oil
1 onion, chopped
6 cloves garlic, minced
1 28 oz can crushed tomatoes
1 cup red wine vinegar
1 cup brown sugar
1 dash Worcestershire sauce
1 dash soya sauce
1 tablespoon Dijon mustard
1/2 teaspoon ground ginger
1/2 teaspoon chili powder
1/2 teaspoon nutmeg
1/2 teaspoon cinnamon
1/2 teaspoon cumin
1/2 teaspoon caraway seed
1/2 teaspoon coriander
Procedure
Heat olive oil in a large skillet, add onions, and sweat them until they have softened. Add the rest of the ingredients and simmer until the mixture reduces by half and thickens.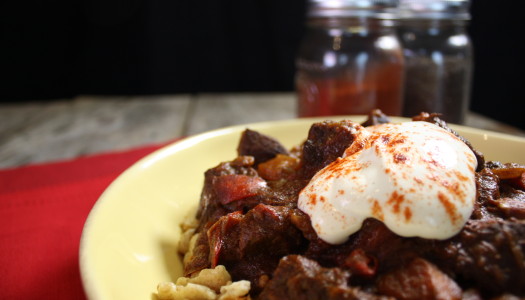 3 years ago
This is one of the great beef stews of the world. It's a uniquely Hungarian dish that's half way between a soup and a stew. While in Hungary, I learned a couple of things. First, that every cook has a different version of this recipe and second, that everyone believes their version is the most authentic. So to me, that means all versions are authentic as long as they contain Hungarian flavours.
This recipe is dedicated to the memory of Ann Szemba, my Hungarian friend who traveled with me to Hungary and taught me this dish.
View Recipe
8 years ago
Beef stews are a part of cooking all over the world. Cooks everywhere know they can simmer tough, inexpensive cuts of meat in a flavourful liquid then fill their bowls with a rich tender stew. My family loves this "Asian" version ladled over spinach leaves and bean sprouts. It's a stew and a salad in the same bowl!
View Recipe