The secret to perfectly oven-roasted potatoes is a two-step process. First, gently boil and cook potatoes through, then rapidly roast and brown them. The resulting crisp exterior and tender interior are quite addictive.
Yield: Serves 4
Ingredients
1 pound any potato, large or small (unpeeled)
1/4 cup olive oil
a sprinkle or two sea salt and freshly ground pepper
a sprinkle or two thyme or rosemary, dried or fresh
chopped parsley and/or a few sliced green onions for serving
Procedure
Cover the potatoes with salted water and bring to a simmer, cooking just until tender. Alternatively steam the potatoes until they're just tender.
When they are cool enough to handle, cut them into large bite-sized chunks. Depending on the size of the potato, this may mean simply cutting a smaller one in half or a larger one into 6 or 8 pieces.
Meanwhile, place a baking pan, casserole dish or large skillet in your oven and preheat it to 375 °F (190 °C). When the potatoes are done, toss them with the olive oil, thyme or rosemary and salt and pepper, coating each piece evenly.
Carefully add them to the preheated pan. The heat of the pan will help keep them from sticking.
Roast until golden brown and crunchy, about 30 minutes or so. Stir occasionally to help them brown evenly.
Just before serving toss with the parsley or green onions or both.
Variation
Try tossing the freshly roasted potatoes with a few handfuls of baby spinach.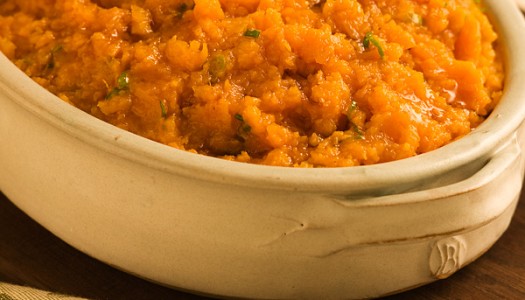 7 years ago
This dish is on my table's top-ten list, and not just because it's easy to make and tastes great. Sweet potatoes are one of the healthiest vegetables you can eat. They're packed with a laundry list of nutrients and always taste great, especially with aromatic olive oil instead of rich butter.
View Recipe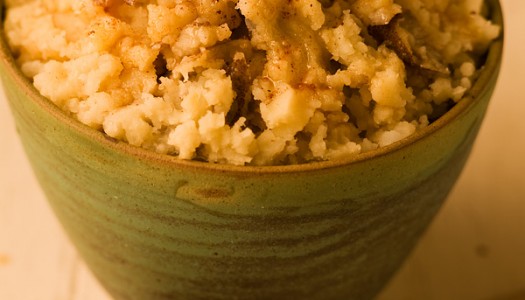 8 years ago
There are as many ways to flavour mashed potatoes as there are cooks. These are my gold standard. They're simple, with a twist: brown butter. You won't believe how much flavour is locked into a stick of butter, but you will believe these are the best mashed spuds you've ever had.
View Recipe