This salad celebrates the abundance of harvest time with crunchy croutons, spicy seeds and colourful cranberries.
Yield: 4-6 servings
Ingredients
For the croutons
1 whole baguette, torn into bite size pieces
1/4 cup (60 mL) of water
1/4 cup (60 mL) of extra virgin olive oil
For the cranberries
1 cup (250 mL) of dried cranberries
1/2 cup (125 mL) of red wine vinegar
1/2 cup (125 mL) of brown sugar
For the pumpkin seeds
2 cups (500 mL) of water
1 cup (250 mL) of brown sugar
2 tablespoons (30 mL) of salt
2 cups (500 mL) of pumpkin seeds
1 tablespoon (15 mL) of cinnamon
1 teaspoon (5 mL) of allspice
1 teaspoon (5 mL) of cloves
For the apple cider vinaigrette
1 cup (250 mL) of extra virgin olive oil
1/2 cup (125 mL) apple cider vinegar
1/2 cup (125 mL) of honey or maple syrup
1 tablespoon (15 mL) of Dijon mustard
For the salad
2 bunches of savoury greens or your favourite mixed greens
1/4 of a red cabbage, thinly sliced
2 handfuls of arugula leaves
2 handfuls of cooked lentils or sprouts
1 or 2 carrots or turnips, shredded
1 green apple, unpeeled and cut to matchstick size or simple shredded
Procedure
First make the croutons. Preheat your oven to 375ºF (190ºC). Turn on your convection oven if you have one. Sprinkle the baguette with water then toss with the olive oil. Scatter on a baking tray and toast in the oven until golden brown, 15 to 20 minutes. The water will add interior chewiness while the oil crisps the outside.
Meanwhile, prepare the cranberries by tossing them with the vinegar and sugar. Let them stand for 30 minutes or so to rehydrate and soften. Strain through a sieve.
Next turn your attention to the pumpkin seeds. Lower your oven to 350ºF (180ºC). In a small saucepan over medium-high heat, bring the water, salt and sugar to a boil. Add the pumpkin seeds, cinnamon, allspice, and clove and bring to a simmer. Reduce the heat to low and continue to simmer for 10 minutes, allowing the seeds to absorb the spicy broth. Strain the seeds through a sieve and scatter the on a parchment-lined baking tray. Bake until lightly toasted and crunchy, about 10 to 15 minutes.
Make the vinaigrette. Place the oil, vinegar, honey and mustard in a 2 cup (500 mL) mason jar, tightly seal and shake vigorously until smooth combined. Alternatively whisk together all the ingredients in a bowl. This vinaigrette is good for months in the fridge – but it's too tasty to last that long!
Finally, assemble the salad. Toss all the salad ingredients together in a large festive bowl. Dress with just enough apple cider vinaigrette to lightly coat. Garnish with the crunchy croutons, spicy seeds and colourful cranberries. Serve and share.
© Chef Michael Smith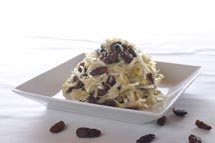 8 years ago
Belgian Endive is a vegetable that's often overlooked in the produce section. Its crisp texture and balanced sweet and bitter flavours make it a great choice for any salad.
View Recipe
2 years ago
When I toss romaine hearts into my shopping cart, chances are I'm heading home to make my family's favourite salad. Every cook should know the joy of crafting a true Caesar salad while avoiding the also-ran dressings at the supermarket that never quite measure up to the real thing. Over time we've experimented with lots of additional flavours in this salad but, more often than not, I toss in lots of fresh basil leaves and brightly flavoured cherry tomatoes. What a great way to fill Half Your Plate!
View Recipe