This is a delicious way to fill Half Your Plate during grilling season with a unique technique and fun group of flavours. You'll be amazed at how easy it is to grill watermelon and how well these tantalizing tastes complement each other.
Yield: Serves 8 to 12
Ingredients
For the pickled red onions
1 large red onion, peeled and evenly sliced into thin rings
1 cup (250 mL) of red wine vinegar
1 cup (250 mL) of sugar
1 tablespoon (15 mL) of your favourite pickling spice or blend i.e. ground fennel seed, coriander seed, cinnamon, ginger, cumin, curry etc.
1/2 teaspoon (2 mL) of salt
1 teaspoon (5 mL) of your favourite hot sauce
For the watermelon
12 thick half moon slices of watermelon
1/4 cup (60 mL) of olive oil
kosher or coarse salt for sprinkling
lots of freshly ground pepper
For the pesto
1 cup (250 mL) of roasted, unsalted almonds
1/2 cup (125 mL) of your very best olive oil
a 250 gram tub of fresh feta cheese
a large handful of fresh mint sprigs, at least a dozen
Procedure
Prepare and preheat your outdoor grill or barbecue to its highest setting. Alternatively build and tend a hardwood fire until you have a thick bed of glowing coals.
Pickle the red onions. Bring the vinegar, sugar, salt and hot sauce to a steady simmer in a medium sauce pan matched with a tight fitting lid. Swirl gently as the sugar melts and the spice flavours infuse the gastrique, 5 minutes or so. Toss in the onions and cover tightly. Simmer as the onions wilt into the pickling liquid, 3 or 4 minutes. Rest. Turn off the heat, leave covered and allow the pickle time to infuse, an hour or so. Feel free to make and refrigerate the pickles well in advance, a day even a week.
Grind the pesto. Add the almonds and oil to your food processor. Pulse just long enough to give the nuts a head start, coarsely chopping them for a minute or so. Crumble in the feta and process the works until smooth. Add the mint and puree yet again until a smooth even condiment emerges, just a minute or so.
Grill the watermelon.  Lay the slices on a large baking pan or cutting board to contain mess. Drench with the olive oil, turning and rubbing the slices to evenly coat them. Season with lots of sprinkled salt and ground peppercorns. Arrange on the grill and sear until smoky and delicious, just long enough to warm through, a few minutes or so in total.  Arrange the grilled watermelon slices on a festive serving platter. Drench with the pesto and cover with a tangle of the red onions.
© Chef Michael Smith
Variation
Kitchen Tips
The secret to grilled watermelon is fierce heat, enough to char the fruit without overcooking it. A slow fire will overcook the fruit long before it sears the surface. A hot fire sears immediately adding tremendous flavour before the interior has a chance to cook through.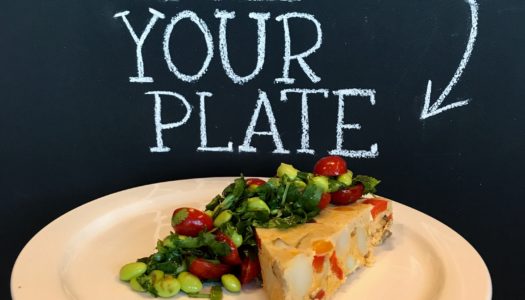 1 year ago
Potatoes are not just tasty, nutritious, inexpensive and easy to find, they're also wildly versatile, especially with eggs in the mix. Cultures and cuisines all over the world have found innovative ways to cook with this dynamic duo. Here they play a starring role in a classic frittata with a tasty Tex-Mex twist. The salsa side salad is bright and spicy, a refreshing condiment of sorts. This recipe will easily fill Half Your Plate – but not for long. It'll be empty in no time!
View Recipe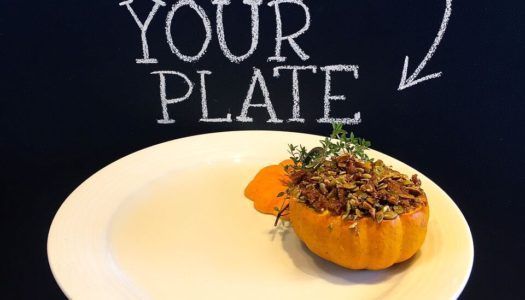 2 years ago
Pumpkins are not just for carving into pretty faces they're vegetables, so you can eat them too! As members of the squash family they're deliciously versatile, inexpensive and packed with nutrients. Your best choice for cooking though are not the various jack-o-lantern varieties, they tend to be too big and bland. Instead, try this simple yet stunning idea with a few mini decorative pumpkins during harvest. With all this seasonal flavour they're a great way to fill Half Your Plate!
View Recipe