I love salmon. I love its flavor, I love how healthy it is, and I love how easy it is to cook. I especially love it grilled, then tossed into a simple salad. And since the grill is already on, why not grill the whole salad?
Yield: 2
Ingredients
For the Dressing:
2 tablespoons (30 ml) of red wine vinegar
4 tablespoons (60 ml) of olive oil
1 tablespoon (15 ml) of Dijon mustard
1 tablespoon (15 ml) of honey
1 tablespoon (15 ml) of oregano
A sprinkle or two of salt and lots of freshly ground pepper
For the salad:
2 skinless grilled salmon fillets, about 6 oz (175 g) each
1 head of romaine lettuce, halved lengthwise, bottom intact
1 red onion peeled and halved
4 plum tomatoes. Halved
2 lemons, halved (crumble or tear on the crispy bread. Splash with your homemade dressing)
Procedure
For the dressing:
Measure all dressing ingredients into a mason jar and shake vigorously until well combined.
Salmon Fillets:
Prepare and preheat your grill to its highest setting. Brush the bread slices and salmon filets with some of the dressing. Position the salmon, bread slices, lettuce halves, red onions, plum tomatoes and lemons over the heat. Grill to perfection then layer everything artistically in your favourite large serving bowl. Top with the grilled salmon then crumble or tear on the crispy bread. Splash with your homemade dressing and serve immediately!
Chef Michael's Kitchen
© Chef Michael Smith
Variation
Freestyle Twist: You can twist this grilled salad with your favorite protein. Try grilling it with shrimp, boneless chicken breasts or your favorite cut of beef steak! Grilled goodness as you like it!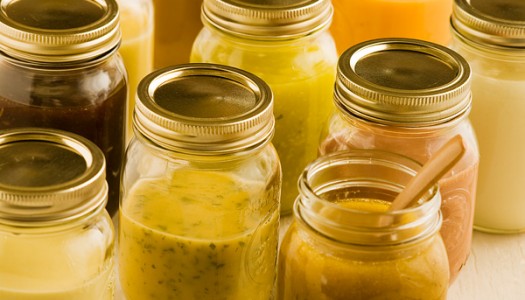 7 years ago
It's easy to make your own personalized salad dressings. The basic ratio of sour, sweet and oil is easily modified and infinitely variable. This recipe makes enough for several salads because it's just as easy to make a lot as a little and, once you taste your own dressings, you won't be able to get enough.
View Recipe
3 years ago
This is my favourite way to toss together the amazing flavours of a Niçoise salad and skip the traditional fussy arrangement of the ingredients. My kids aren't big fans of visible anchovies and don't know that they're hidden in the powerfully flavoured dressing loaded with tangy lemon, bright parsley and aromatic basil. They just know they love this salad and I love that it's a whole meal in a bowl!
View Recipe