Who says burgers have to be made from meat? You'll be amazed at how easy these are to put together, and your guests will be impressed with how tasty they are. They're packed full of Asian-inspired flavour, a great way to jazz up your next barbecue excursion with something different and healthy.
Yield: Serves 4
Ingredients
1 pound salmon fillets, skins removed, then cubed
2 cups cilantro leaves
1/4 cup minced red onion
1/4 cup grated frozen ginger
1 tablespoon soy sauce
1 teaspoon sriracha or your favourite hot sauce
a splash any vegetable oil
Procedure
Toss all the ingredients into a food processor and pulse for a few seconds, a few times, just until the ingredients come together. The mixture will still be a bit chunky and even seem a bit wet. Do not purée!
Preheat your barbecue to its highest setting.
Form the mixture into 4 evenly shaped and evenly thick patties. The burgers may seem like they'll fall apart on the grill, but don't worrythey'll be nice and firm once they cook through.
Place the burgers on the grill and cook until golden brown on the first side. Flip them over and brown the other sides. Serve alone or on a bun with your favourite burger condiments.
Serve with Pickled Red Onions
Variation
You can add lots of Mediterranean flair to these burgers by substituting tomato paste, salt and pepper and fresh or dried oregano for the ginger, soy sauce, hot sauce and cilantro.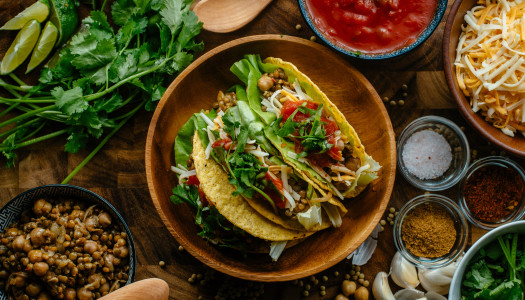 3 years ago
The year 2016 has been declared the International Year of Pulses by the United Nations to celebrate one of the world's most important foods: the edible seeds of the legume family.
Beans, peas, chickpeas, and lentils are packed with fibre, protein, nutrients, and flavour. Their nutritional intensity, inexpensive accessibility, and ease of cooking have made them indispensible staples to cooks all over the globe.
Wherever we live, we all do our best to make healthy choices at home but it's a lot easier when those choices are delicious. These meatless tacos are stuffed with so much sunny southwestern flavour that no one will notice anything missing. What a great way for your family to join families around the world in a global celebration of flavour and nutrition!
View Recipe
8 years ago
In many Italian restaurants the menu term "Tuscan Beef" refers to a particular style of serving beef that is always dramatically finished at the table. An extra thick slab of premium beeflarge enough to serve at least four peopleis slowly roasted on a grill and presented to the table with a classic group of ingredients: arugula leaves, extra virgin olive oil, lemon zest and juice, shaved Parmigiano Reggiano cheese, sea salt and freshly cracked peppercorns. The meat is thinly sliced and draped over a salad of sorts. The results are authentically Italian, spectacularly delicious and a great way to satisfy your primal beef craving and show off at your next dinner party.
View Recipe