Few things in your kitchen are as simple as grilling a few chicken breasts and topping them with simple flavours. It's a basic method, which always inspires improvisation as you create your own toppings with your favourite flavours.
Yield: serves 4
Ingredients
4 chicken breasts
A splash any vegetable oil
1 or 2 sprinkles sea salt and freshly ground pepper
the topping of your choice
Procedure
Preheat your grill to its highest setting.
Lightly oil and season the chicken breasts. When the grill is hot, position the chicken breasts at a 45-degree angle to the grill's grates. After a few minutes, rotate the breasts 90 degrees for a perfect steakhouse look. After another few minutes, flip them over and repeat on the second side. Serve immediately with your favourite topping or use one of the following variations.
Variation
1. Spicy Fresh Salsa
2. Basil Pesto
3. Chimichurri Sauce
4. Black olive tapenade
5. Sautéed onions finished with a dollop of mustard
6. A chopped tomato or two sautéed in olive oil with a sliced onion and minced garlic, finished with a sprinkling of oregano
7. A handful of sliced mushrooms sautéed in butter, a sprinkling of tarragon and a splash of sherry
8. A spoonful or two of tomato or pizza sauce with a sprinkle of shredded mozzarella cheese and baked or broiled for a few minutes longer
9. A chopped apple sautéed in olive oil with a sliced onion, a sprinkling of cinnamon and finished with a splash of apple juice and a spoonful of mustard
10. A dollop of peanut butter, a splash of soy sauce, a few drops of sesame oil, a spoonful of honey, the zest and juice 1 lime and a few dashes of your favourite hot sauce stirred together
49 years ago
A bowl of homemade chicken noodle soup is one of the most comforting foods you can place on your table. It's a great way to show off the hearty goodness of homemade chicken broth. It's also a great way to show off your creativity by personalizing the flavour whichever way you want.
View Recipe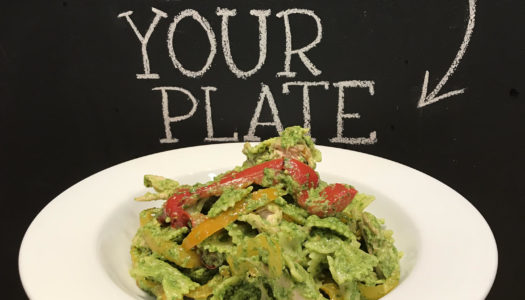 11 months ago
Running out of time to cook vegetables? You can make this delicious dish in the time it takes you to boil water and cook pasta. You just need a few delicious timesavers. Tricks like a simple pesto built on the snappy flavour of arugula or the convenience of a store-bought rotisserie chicken. And it doesn't take long to melt bell peppers. Save time and fill Half Your Plate with vegetables!
View Recipe