You don't need a recipe to make a great grilled-cheese sandwich. Some great cheese, hearty bread and a bit of butter will do just fine. You can also easily finesse this humble snack into a classic treat by adding some of your favourite personalized flavours.
Yield: 2 sandwiches
Ingredients
4 slices favourite sandwich bread
4 slices aged cheddar cheese
1 tablespoon Butter
Procedure
Preheat a heavy sauté pan over medium heatnot too hot or the bread will burn before the cheese has a chance to melt.
Sandwich the bread and cheese together. Lightly butter both sides of the sandwich and position in the warm pan.
Slowly and patiently brown the sandwich on 1 side until golden brown and beautiful. Flip. Brown the second side and then serve immediately. A grilled cheese sandwich is at its best while the cheese is still hot and oozing!
Variation
Aged cheddar cheese is the gold standard for a great grilled cheese sandwich, but you can use any good melting cheese. Try experimenting until you find a favouriteSwiss, Gouda and havarti are all very good. Try including a few slices of crisp bacon, sliced ham or ripe tomato. You can even make a pizza sandwich with mozzarella and a spoonful of tomato sauce. For an extra special treat, try Cambozola cheese with freshly cracked black pepper and orange marmalade.
8 years ago
In many Italian restaurants the menu term "Tuscan Beef" refers to a particular style of serving beef that is always dramatically finished at the table. An extra thick slab of premium beeflarge enough to serve at least four peopleis slowly roasted on a grill and presented to the table with a classic group of ingredients: arugula leaves, extra virgin olive oil, lemon zest and juice, shaved Parmigiano Reggiano cheese, sea salt and freshly cracked peppercorns. The meat is thinly sliced and draped over a salad of sorts. The results are authentically Italian, spectacularly delicious and a great way to satisfy your primal beef craving and show off at your next dinner party.
View Recipe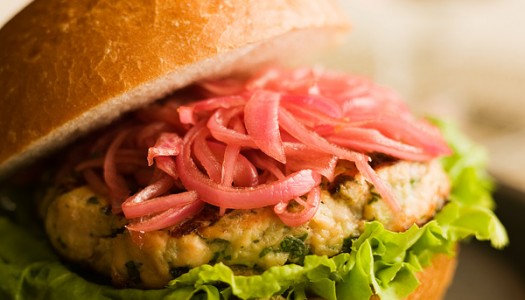 8 years ago
Who says burgers have to be made from meat? You'll be amazed at how easy these are to put together, and your guests will be impressed with how tasty they are. They're packed full of Asian-inspired flavour, a great way to jazz up your next barbecue excursion with something different and healthy.
View Recipe