There are many ways to cook asparagus; my favourite is on the grill with lots of smoky flavour, especially when they're tossed with a batch of a quick and tasty variation of pesto.
Yield: Serves 4 - 6
Ingredients
a large bunch flat leaf parsley
1/2 cup grated Parmesan cheese
1/2 cup sliced almonds
a few splashes best olive oil
a sprinkle or two sea salt and freshly ground pepper
1 or 2 bunches fresh asparagus, woody ends trimmed
more splashes of your best olive oil
lots of sea salt and freshly gound pepper
Procedure
For the pesto, simply purée the parsley, cheese, almonds and oil in your food processor until the mixture is smooth. Add just enough oil to help the mixture form a smooth purée; it's at its best somewhere between chunky and runny.
Taste it and season with salt and pepper. The pesto will keep in the refrigerator for a week or so.
Preheat your grill on its highest setting.
Toss the asparagus spears with a splash or two of olive oil and season them with lots of salt and pepper. Carefully place them on the hot grill, rotating them as they begin to cook. They're done when they're slightly charred and tender.
Arrange them on a serving platter and drizzle with lots of parsley pesto.
Variation
Try adding a green onion or two to the pesto. You may use pine nuts instead of almonds.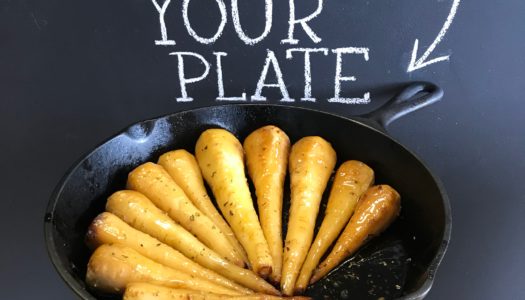 7 months ago
Parsnips are a root vegetable, the way a plant stores sunshine as sugar. They keep well which makes them a traditional winter vegetable. Their sweet earthy flavour and firm texture means they're great for slow cooking, especially when they absorb the flavours of a delicious glaze along the way. Parsnips are a great way to fill Half Your Plate with root vegetable goodness.
View Recipe
3 years ago
Sweet potatoes are undeniably healthy being packed full of micronutrients, betacarotene and fibre. They're guaranteed nutritional powerhouses, even when you make one of my favourite holiday treats from south of the border, covered with a thick layer of marshmallows. I'm convinced this classic was created by parents whose kids weren't the least bit interested in how healthy sweet potatoes are, until they showed up at the table covered in marshmallows.
View Recipe