Nothing is simpler, tastier and healthier than a bowl layered full of happy homemade salad; especially when it's tossed with a few twists, including your own secret "house dressing."
Yield: 4
Ingredients
Master Dressing Recipe
1 part vinegar
1 part sugar
1 part mustard
2 parts oil
1-2 sprinkles salt and lots of freshly ground pepper
Balsamic Honey Version
1 tablespoon balsamic vinegar
1 tablespoon honey
1 tablespoon Dijon mustard
2 tablespoon olive oil
Salad
4 ounces arugula
4 ounces mixed baby greens
4 ounces baby spinach
1 big bunch fresh cilantro leaves and stems
1 big bunch fresh basil leaves
1 cup slivered almonds, toasted
2 shredded carrots
Procedure
Wash and refresh the greens and spin them dry. Toss them into your favourite salad bowl. Toss in the herbs. Make your dressing by shaking it in a mason jar and adjust the volume to suit your needs. Be sure to make enough for leftovers. A jar of homemade dressing in the fridge is like money in the bank for me. Start with the oil, and then add vinegar and honey. Shake it up. Notice the ingredients quickly separate. Add the mustard and shake again. Voila! The mustard binds the dressing together and it will remain thick and creamy from here on.
Now toss your salad with the dressing, making sure not to overdress. Top with almonds for a crunchy finish. Nuts are a fantastic, tasty way to add texture, flavor and protein to any salad. Break out the salad tongs, serve and share.
Chef Michael's Kitchen
© Chef Michael Smith
Variation
Freestyle Twist: Twist your dressing up by experimenting with the sugar, oil, vinegar or mustard. Try brown sugar, white sugar, maple syrup or even raspberry jelly. Use your favorite oil whether it' sunflower, safflower or vegetable. Mix it up with rice, red wine, sherry or white wine vinegar or opt for lemon or lime as a sour. Any mustard you can find will do the trick. With a little imagination and your taste buds as your guide the combination possibilities are endless. Make a little or a lot, but make it a dressing you love!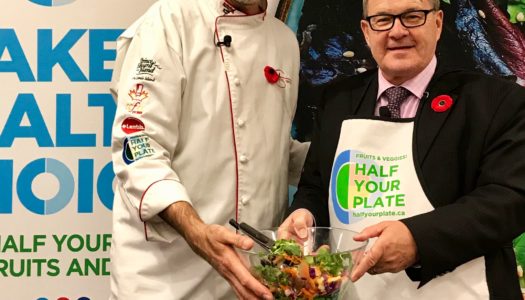 7 months ago
You can fill more than Half Your Plate and create your own salad with this recipe. Chefs know that the art and craft of filling a salad bowl is one of the greatest expressions of the culinary arts. Home cooks love how easy it is to cram the salad bowl with healthy flavours. Everyone enjoys emptying the bowl. You'll love knowing you have plenty of delicious dressing leftover for the next salad and nothing beats impressing yourself in your own kitchen! This one was custom created by Honorable Lawrence MacAulay with Chef Michael Smith's coaching!
View Recipe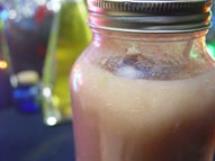 8 years ago
In the fall, when apples are in peak season, I always make a giant batch or two of applesauce and freeze it. It's one of my favourite things to do in the kitchen with my son Gabe. Then, all winter long, we're reminded of our favourite season.
View Recipe