Nothing is simpler, tastier and healthier than a bowl layered full of happy homemade salad; especially when it's tossed with a few twists, including your own secret "house dressing."
Yield: 4
Ingredients
Master Dressing Recipe
1 part vinegar
1 part sugar
1 part mustard
2 parts oil
1-2 sprinkles salt and lots of freshly ground pepper
Balsamic Honey Version
1 tablespoon balsamic vinegar
1 tablespoon honey
1 tablespoon Dijon mustard
2 tablespoon olive oil
Salad
4 ounces arugula
4 ounces mixed baby greens
4 ounces baby spinach
1 big bunch fresh cilantro leaves and stems
1 big bunch fresh basil leaves
1 cup slivered almonds, toasted
2 shredded carrots
Procedure
Wash and refresh the greens and spin them dry. Toss them into your favourite salad bowl. Toss in the herbs. Make your dressing by shaking it in a mason jar and adjust the volume to suit your needs. Be sure to make enough for leftovers. A jar of homemade dressing in the fridge is like money in the bank for me. Start with the oil, and then add vinegar and honey. Shake it up. Notice the ingredients quickly separate. Add the mustard and shake again. Voila! The mustard binds the dressing together and it will remain thick and creamy from here on.
Now toss your salad with the dressing, making sure not to overdress. Top with almonds for a crunchy finish. Nuts are a fantastic, tasty way to add texture, flavor and protein to any salad. Break out the salad tongs, serve and share.
Chef Michael's Kitchen
© Chef Michael Smith
Variation
Freestyle Twist: Twist your dressing up by experimenting with the sugar, oil, vinegar or mustard. Try brown sugar, white sugar, maple syrup or even raspberry jelly. Use your favorite oil whether it' sunflower, safflower or vegetable. Mix it up with rice, red wine, sherry or white wine vinegar or opt for lemon or lime as a sour. Any mustard you can find will do the trick. With a little imagination and your taste buds as your guide the combination possibilities are endless. Make a little or a lot, but make it a dressing you love!
4 years ago
A jar packed with freshly tossed salsa, full of juicy ripe tomatoes and aromatic flavours, is easy to make and easy to enjoy. Sweet tomatoes, sour limes, aromatic herbs, salt and spicy pepper all balance each other in a vibrant harmony of tastes. A good salsa doesn't ruin your day with too much spicy heat; it brightens it with just enough.
View Recipe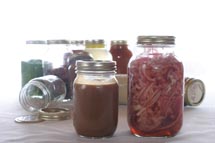 5 years ago
These tasty onions lose all their pungency in the pickling process but gain a sweet sharpness that makes them a great last minute addition to any salad. They're a multi-purpose condiment and are delicious with any type of fish.
View Recipe