I love fruit. I live for fruit. I'm powered by fruit! When fruit is properly ripened, it can be one of the best things to eat, so when you combine all your favourites together in a fruit salad, it can be a revelation.
How about balancing all that sweet with some sour lime, spicy chilli and cooling mint? Or what about using a secret ingredient that pairs perfectly with fruit? No one will ever know that it's vanilla adding that mysterious yet familiar flavour.
Yield: 6 to 8 servings
Ingredients
For the salad
Enough fruit to fill a large salad bowl, using any combination of the following:
Pineapple
Banana
Apple
Pear
Mango
Kiwi
Plum
Cantaloupe
Passion fruit
Oranges
Fresh berries
Grapes
Your favourite fruit!
For the Cool Spicy Dressing
The zest & juice of 2 limes
1 bunch of fresh mint, chopped
1/4 cup (60 mL) of mint jelly
1 teaspoon (5 mL) or so of your favourite hot sauce
For the Vanilla Vinaigrette
1/2 cup (125 mL) of white wine vinegar
1/2 cup (125 mL) of extra virgin olive oil
1/2 cup (125 mL) of honey
1 tablespoon (15 mL) of real vanilla extract
1 tablespoon (15 mL) or so of Dijon mustard
Procedure
For either of the dressings, place all the ingredients in a mason jar. Cover tightly and shake, shake, shake! Store any leftover in the fridge for your next salad.
To make the salad, start by washing, peeling and trimming any variety or combination of fruit as necessary. Place in a large festive bowl and dress with either dressing. Serve and share.
© Chef Michael Smith
Variation
Put any combination of fruit in the blender and puree to create a fruit smoothie, ready for immediate consumption. Alternatively, pour into ice cube trays and freeze for fruit smoothie ice cubes – a frosty treat that's good anytime and good for you!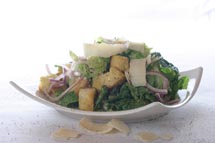 8 years ago
This classic salad has come a long way since its 1924 invention by Caesar Cardini at his Tijuana restaurant. It's now found on virtually every menu in the country - at home and in restaurants. Since there are as many ways to make it as there are cooks, I don't spend a lot of time worrying about authenticity, just flavour. Here's my version.
View Recipe
8 years ago
This salad features one of my all-time favourite flavour combination: peppery, nutty arugula leaves tossed with sweet, fragrant strawberries, mellow balsamic and sweet pine nuts. Together these ingredients are far more than the sum of their parts.
View Recipe