All over the world, one of the simplest ways to turn a pile of ripe fruit into a warm comfortable dessert is to slowly bake them with aromatic spices under an easy-to-make crumbly crust
Yield: serves 6 - 8
Ingredients
2 to 3 pounds your choice of fruit
1 teaspoon ground cinnamon
1 cup all-purpose flour
1 cup white or brown sugar
1 teaspoon nutmeg
1 stick butter (1/2 cup)
Procedure
Preheat your oven to 350 °F (180 °C).
Toss the fruit with the cinnamon, then spread it evenly into a 9- x 5-inch baking pan 2 inches deep.
In a mixing bowl, whisk together the flour, sugar and nutmeg. Drizzle in the melted butter and stir until well blended with the dry ingredients.
Scatter this topping evenly over the top of the fruit. Bake until fruit juices are bubbling around the edges, the fruit is tender and the top is golden brown, about 1 hour.
Variation
There are many ways to add your own freestyle ideas to a fruit crisp. Try apples, peaches, pears, plums, pineapple (peeled, cored and cut into chunks), rhubarb or banana chunks, or any berry. Even chunks of mango bake into a memorable crisp. You may use one fruit or try different combinations of fruit. If you choose berries, it's best to toss them with a spoonful or two of flour to help soak up their extra juices. You may also try stirring in raisins or your favourite nuts. You can modify the topping with whole wheat flour and vegetable oil instead of white flour and butter. You can use your favourite baking spice instead of cinnamon or nutmeg. Cardamom is always a treat!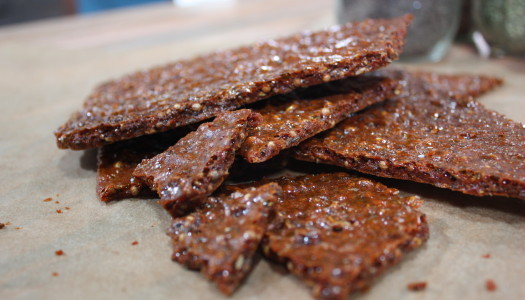 4 years ago
Spice up your snack life with this seedy, snappy brittle. Once you master the art and craft of making a homemade brittle, the possibilities are endless. Substitute other spices, stir in your favourite nuts or seeds, you can even you chopped up pretzels or cookies!
Making caramel is easy, but it does benefit from keeping a close eye. The sugar syrup might not look like it's doing much for a while but as soon as it starts changing colour, stay close to the stove. It can go from light yellow, to dark brown, to a smoking black mess in a matter of moments. It's also extremely hot, so exercise caution and keep it away from young fingers until it has completely cooled.
View Recipe