You haven't lived until you've roasted tomatoes with onions and garlic and tossed them with pasta! Roasting reveals a deep, satisfying flavour hidden in tomatoes. This will become one of your favourite ways to dress up pasta. My family loves the simple rustic flavours of this dish, and I'm sure yours will too.
Yield: Serves 4
Ingredients
dozen or so plum tomatoes, halved lengthwise
2 onions, diced
1 whole head garlic cloves, peeled
a generous splash olive oil
a sprinkle or two sea salt and freshly ground pepper
1- 1 pound box farfalle
Procedure
Preheat your oven to 400 °F (200 °C).
Toss the tomatoes, onions, garlic and olive oil together. Season the works with salt and pepper, and then toss everything into a 9- x 13-inch casserole or other baking dish.
Roast until the tomatoes shrivel and begin to brown a bit, about 1 hour or so. As they roast, their flavours will concentrate and caramelize. The heat will also break them down a bit so they'll form a loose sauce when they're tossed with the pasta.
When the tomatoes are done roasting, discard any onion slices that may have blackened a bita small price to pay for the rich flavours of roasted tomato!
Cook the pasta in lots of boiling salted water. Toss the hot pasta with the hot sauce and enjoy the tasty, roasted tomatoes and mellow, whole garlic cloves.
Variation
You can use any of your favourite pastas for this dish. For lots of bright flavour bursts, try tossing the tomatoes with a spoonful of fennel seeds before roasting them or adding lots of whole basil leaves just before serving.
8 years ago
When a local fisherman shows up at my door with a fresh halibut, this is the gold standard recipe I reach for. It's my favourite way to add lots of simple, bright Mediterranean flavour to the firm, meaty whitefish. This dish is spectacular enough for a special occasion but easy enough for a quick weeknight dinner.
View Recipe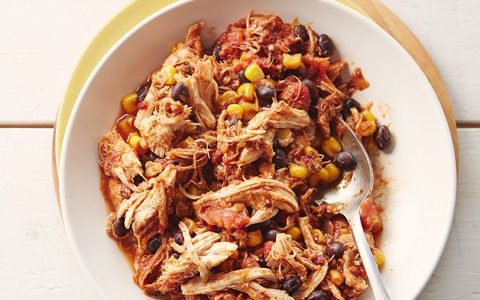 3 years ago
Tex-Mex joints all have a variety of meaty fillings like this one on their menus packed with big, bright Tex-Mex flavors ready to roll into any type of tortilla. Burritos, enchiladas, quesadillas, crispy tacos, soft tacos, tostadas, rotis—what will you roll?

View Recipe