Sweet potatoes are a superfood. They've earned this title by being so packed with nutrients, ounce for ounce, that they're just plain nutritionally dense. Quite simply, they're one of the single healthiest foods you can bring to your table. Tasty and easy too. Especially with the bright flavours of curry and ease of canned chickpeas. For this recipe simply toss everything together, toss into the oven, then sit back and wait for the compliments!
Yield: Serves 4 to 6
Ingredients
2 to 3 large sweet potatoes, unpeeled, rinsed, cut into bite-sized chunks
2 large onions, chopped
a 19-ounce (540 mL) can of chickpeas, rinsed and drained
2 tablespoons (30 mL) of olive oil or melted butter
2 tablespoons (30 mL) of curry powder
1 tablespoon (15 mL) of fennel, cumin or coriander seeds
1 teaspoon (5 mL) of ground cinnamon
1/2 teaspoon (2 mL) of salt
Lots of freshly ground pepper
1 bunch of fresh cilantro, chopped, reserve a few sprigs for garnish
Procedure
Preheat your oven to 375ºF (190ºC). Turn on your convection fan if you have one. Ready a large roasting pan, baking pan or sauté pan.
Toss the vegetables, chickpeas, oil, spices, salt and pepper together mixing the works thoroughly until all the flavours are evenly distributed. Reserve the cilantro. Fill the pan evenly with the mixture.
Roast, stirring occasionally, until the vegetables are tender, lightly caramelized and delicious, about 1 hour. Top with the cilantro. Serve and share directly from the pan.
Kitchen Tips
You don't have to peel sweet potatoes. Just rinse them well and dice away. It's not that the skin is somehow a massive source of nutrients, it's just that it's easier not to peel them! Canned pulses, like chickpeas, are also a very valid ingredient. Rinse them well before use too. You'll wash away lots of sodium but retain all the fiber, protein and micronutrients that make them so healthy in the first place.
© Chef Michael Smith – #HalfYourPlate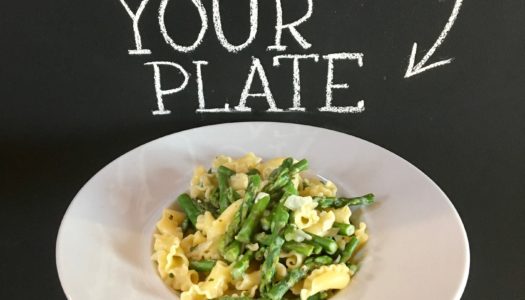 2 years ago
This classic pasta dish is an easy way to show off the flavours of spring and fill Half Your Plate with lots of delicious asparagus. The super-simple sauce and streamlined method lets you cook the veggies and pasta at the same time. You'll love the tangy bright flavours and watching bowls empty all around you!
View Recipe
4 weeks ago
The many different mushrooms at your supermarket are all prized for their deep earthy flavours and unique textures. These distinctive vegetables are uniquely the above-the-ground fruit of a below-the-ground fungus. Mushrooms are at their meaty best in a batch of slowly simmering barley cooked like a batch of classic risotto. You'll fill more than Half Your Plate with this hearty dish!
View Recipe