This favourite flavour is often our first heat, the first cooking of the day for my family. A batch of these pancakes is a great way to spin a strong dose of whole grains into a get-out-of-bed treat and to kick-start a nutritious day.
Yield: 4 Servings
Ingredients
1 cup (250 mL) of all purpose flour
1 cup (250 mL) of whole-wheat, grain or almond flour
1 cup (250 mL) of oatmeal flakes
2 tablespoons (30 mL) of baking powder
1 teaspoon (5 mL) of ground nutmeg or cinnamon
1/2 teaspoon (2 mL) of salt
2 cups (500 mL) of any milk or water
1/4 cup (60 mL) of vegetable oil or melted butter
2 tablespoons (30 mL) of honey (or brown sugar)
2 eggs (or 4 for added richness)
1 teaspoon (5 mL) of pure vanilla extract
Procedure
A preheated pan is the first secret to pancake perfection. While you mix the batter, preheat your largest, heaviest skillet over your sweet spot, the medium to medium-high heat that gives the batter time to cook through while the surface browns. Your preheated skillet is at the perfect temperature when a few scattered water drops dance on it (just right) without evaporating (too hot) or just pooling still and simmering (too cool).
Whisk together the dry ingredients, including the brown sugar, if using, to distribute the fine powders evenly among the coarser ones.
Whisk together the wet ingredients and then pour them into the bowl of dry ingredients. Lose the whisk and grab a wooden spoon so it won't clog in the batter. Stir the batter until it is smooth, but don't overmix.
Spoon the batter into the preheated pan, evenly filling it with a lot of little pancakes or a few large ones. Smaller ones are easier to flip and are easy to pass out to a hungry crowd.
Watch for bubbles. As the batter heats through, the baking powder will activate and release leavening bubbles that rise to the surface. Keep an eye on them. At first, they'll burst and disappear, but as the batter cooks through they'll leave behind a telltale hole.
When the pancakes are evenly covered here and there with holes, it's time to flip. Because the batter is heated through, and the first side is already browned, the second side cooks faster.
You can get ahead of a crowd by stashing a plate full of pancakes in a warm oven. Cover the plate with a bowl, and they'll stay fresh and warm while you cook more.
Variation
The first three cups of flours and grains can easily be custom blended. Use any mixture you like as long as it measures three cups in total. You may also use any milk, like cow, soy, rice or a blend. Honey adds lots of complex aromatic flavour but you can also add 1/2 cup (125 mL) brown or white sugar to the dry ingredients. If you like experimenting with spices, you can brand every batch with a new name and a new spice flavour. Simply varying your choice of spice completely changes the flavour of the pancakes. Just for aromatic kicks!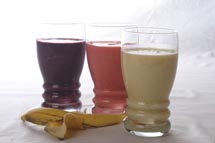 9 years ago
A well-crafted smoothie tastes so good you'll forget it's good for you! It's one of my favourite ways to fill a glass with energy, nutrients and flavour. Use it to kick off your day - everyday - with the goodness of fruit. At heart, it's just flavoured fruit puree so it's easy to make. It's also easy to jazz up with other healthy goodies like flax seed oil, yogurt or berries.
View Recipe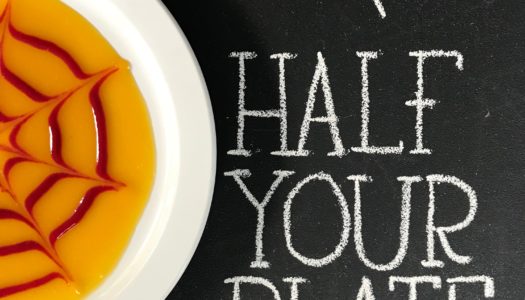 9 months ago
Every chef knows how easy it is to jazz up dessert by pureeing fruits into simple sauces. With just a few simple ingredients, a bit of gentle heat and a strong blender you too can transform almost any ripe fruit into a colourful backdrop for almost any dessert. Apricot uniquely creates the smoothest sauce of them all though. Its' juicy tender flesh and fresh aromatic flavour go well with everything. Even at dessert you can fill Half Your Plate!
View Recipe