This is the tastiest bread I have ever made. It's also the easiest because the secret ingredient in all true bread is time. The key to an addictive loaf of rich, hearty goodness is non-laborious kneading; it's an overnight rest for the living dough. With time, water and flour naturally form an elastic dough that rises with just a small amount of yeast. Here's how to make your own Country Bread, full of rustic whole grain goodness, or a loaf of refined white City Bread.
Yield: 1 loaf
Ingredients
For a loaf of Country Bread
3 cups all purpose or bread flour
1 cup whole wheat four
1/2 cup any multigrain mix (see variations)
1/2 heaping teaspoon active dry yeast
2 teaspoons salt
2 1/4 cups warm water
For a loaf of City Bread
5 cups all purpose or bread flour
1/2 heaping teaspoon active dry yeast
2 teaspoons salt
2 1/2 cups warm water
Procedure
In a large bowl whisk the dry ingredients together, evenly distributing the salt and yeast throughout the flour. Pour in the warm water and stir with the handle of a wooden spoon until a moist dough forms. Continue stirring until the dough incorporates all the loose flour in the bowl, 1 or 2 minutes in total.
Cover the bowl with plastic wrap and let rest in a warm place for 8-10 hours. The dough will double in size and bubble, and long elastic gluten strands will form without laborious kneading.
Dust the dough lightly with a bit of flour. Oil hands lightly and, with your fingertips, gather dough from the outside edges to the middle, knocking it down into a loose ball. Turn out onto a lightly floured board and knead for a few moments until a tight ball forms. Toss the ball back in the bowl and lightly coat with a splash of vegetable oil, turning to evenly cover.
Gently roll the dough into a thin log that fits end to end in a lightly oiled 9- x 5-inch (2 L) loaf pan and, without covering, rest it a second time. In 2 to 3 hours it will double in size once more.
Meanwhile, preheat your oven to 425°F (220°C). When the dough is ready, bake for 45 minutes.
Variation
Bread dough has a higher concentration of gluten in it so it will produce the strongest loaf with the most rise. All-purpose flour has less gluten but will still produce a beautiful loaf of bread. In either case the dough is strong enough to hold lots of multi-grain bits so, in the Country Bread, for a multi-grain mix, you may use a blend such as Red River cereal or a 12-grain cereal breakfast blend. You may also use plain oatmeal, cornmeal or even potato flakes.
4 years ago
Few things say "Good Morning" better than a batch of warm-from-the-oven cinnamon rolls! You can bake them with speedy baking powder, but an old-school yeast dough always has the best texture and flavour.
View Recipe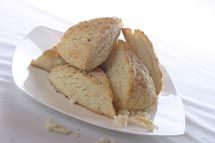 4 years ago
These are my gold-standard biscuits. My secret? Frozen butter! It's an old pastry chef's trick that has served me well. Butter tastes great and when it's frozen it becomes very easy to shred into the dough. After you try these a few times you'll be able to bake them in under twenty minutes and clean up the mess too!
View Recipe