Plenty of corn
A bowl full of freshly made corn polenta is one of the world's great grain dishes. Polenta is a traditional Italian pudding thickened with cornmeal. Freshly made, it has a soft, creamy, addictively delicious texture. It can also be served by cooling and hardening it, then slicing it and grilling or pan-searing it until it forms a beautiful crispy crust with a creamy interior.
Yield: Serves 4 - 6
Ingredients
1 splash vegetable oil
1 or 2 onions, chopped
few cloves garlic, minced
2 cups milk
2 cups chicken broth OR 2 more cups milk
1 cup coarse yellow cornmeal
1 cup frozen corn
1/2 cup grated Parmesan Cheese, or grated cheddar
sprinkle or two sea salt and freshly grated pepper
Procedure
Preheat your oven to 350 °F (180 °C).
Splash the vegetable oil in a large saucepan over a medium heat. Add the onions and garlic and sauté, stirring, until they just begin to turn golden brown, about 5 minutes.
Add the milk and broth and bring everything to a simmer. Add the cornmeal in a slow steady stream, whisking constantly to prevent lumping. Switch to a wooden spoon as soon as all the cornmeal is in the broth. The cornmeal will quickly thicken beyond the usefulness of a whisk.
Lower the heat and continue cooking, stirring frequently, until the mixture really thickens, 15 minutes or so.
Stir in the frozen corn, cheese and salt and pepper and serve immediately while the polenta is still soft and creamy with lots of melted butter. Alternatively pour into a loaf pan or baking dish. Bake for 15 minutes and refrigerate until firm.
To reheat, cut the polenta into thick slices and grill them. You may also toss the slices with more cornmeal and pan-fry them.
Variation
For more flavour, stir in a cup or so of aged cheddar cheese and some crisp bacon bits.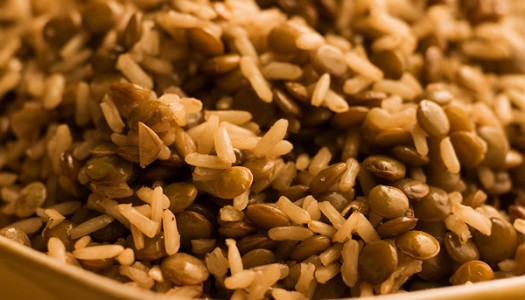 8 years ago
Rice is a grain, lentils a legume. Combine the two and you have a perfect source of vegetarian protein. Of course, you don't have to be a vegetarian to enjoy the wholesome, tasty richness of this healthy duo.
View Recipe
4 years ago
This is one of my favourite variations on a classic rice pilaf. It's spiced up with vibrant curry, colourful saffron, and succulent sweet potatoes which, ounce for ounce, are one of the most nutritionally dense vegetables readily available.
For a meal befitting of the lords and ladies in your life, pack this fragrant rice into small bowls and ramekins, then inverse onto the serving plates. Top with a sprig or two cilantro before surrounding the rice with some sautéed shrimp or steamed mussels.
View Recipe