There are as many ways to stew a chicken as there are cooks and cuisines. A bowl full of this classic comfort food is the perfect antidote for anything stressful life throws your way. It's also a simple, tasty way to stretch a single chicken into a meal for many
Yield: Serves 6 to 8
Ingredients
1 4 lb Roasting Chicken
1/2 cup Butter
2 chopped onions
4 cloves Garlic,minced
1/2 cup all-purpose flour
4 cups chicken broth
2 diced carrots
2 Stalks (diced) celery
A Handful (Sliced) Mushrooms
1 teaspoon rosemary, minced
2 or 3 bay leaves
1 or 2 sprinkles sea salt and freshly ground pepper
1/2 cup Heavy (35%) or sour cream
2 or 3 thinnly sliced green onions
1 cup frozen green peas
Procedure
Cut chicken into 10 pieces (2 thighs, 2 drums, 2 wings and 4 breast pieces).
Place a large heavy saucepan over medium heat and toss in the butter. Add a single layer of chicken pieces and patiently brown them until they're caramelized on all sides. Remove from the pan and rest on a plate. Repeat with any remaining chicken. By cooking the chicken in batches you avoid cooling the pan below the high heat needed for caramelization.
When the chicken is browned, add the onions to the fat and juices remaining in the pan. Sauté until golden brown and caramelized. Add the garlic and sauté a few moments longer. Stir in the flour and then whisk in the chicken broth. Bring to a simmer whisking constantly until thickened.
Add the vegetables, fresh herbs and reserved chicken and any juices from the resting plate. Season with salt and pepper. Continue cooking over medium heat until the stew returns to a simmer, then turn the heat down to low, just enough to maintain the simmer.
Cover tightly and continue cooking for 30 minutes or so.
Stir in the cream, green onions and peas. Taste and add additional salt and pepper, if desired. Serve immediately or refrigerate for 2 or 3 days then reheat when needed.
Variation
For some exotic flavour, add 1 tablespoon or so of curry powder along with the chicken broth. For some Mediterranean flavour, omit the flour and replace the chicken broth with one 28 oz can of whole tomatoes. Stir in lots of fresh or dried oregano to finish.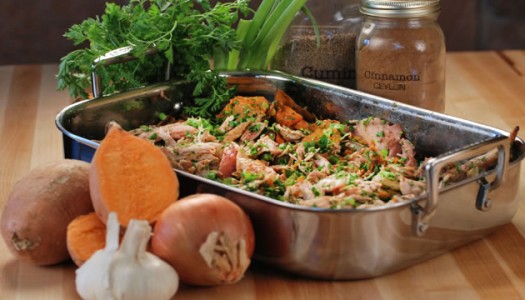 7 years ago
Nothing is more comforting, more home style, than a simple roast chicken dinner. Especially when the vegetables are cooked and seasoned at the same time and there's only one pot to clean!
View Recipe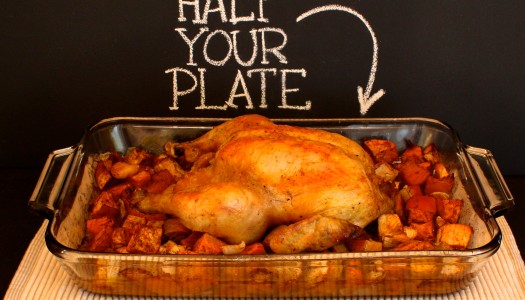 3 years ago
There are as many ways to roast a chicken as there are cooks. This basic method is my favourite. Roasting the chicken perched on top of a thick bed of vegetables not only helps you prepare an entire meal at once but also guarantees that not a drop of flavour is lost. You can also skip all the normal laborious of slicing by simply shredding the meat into the works and tossing together a pan stew of sorts!
View Recipe