Few things say "Good Morning" better than a batch of warm-from-the-oven cinnamon rolls! You can bake them with speedy baking powder, but an old-school yeast dough always has the best texture and flavour.
Yield: Makes 12 to 16 rolls
Ingredients
for the sweet dough:
1 cup milk
1 stick butter, softened
1/2 cup brown sugar
2 tablespoons pure vanilla extract
1 teaspoon salt
5 cups all-purpose flour
1 – 1/4 ounce package instant yeast
4 eggs
for the cinnamon filling:
1/2 cup butter, softened
1 cup brown sugar
2 tablespoons ground cinnamon
for the glaze:
1 cup powdered sugar
1/4 cup heavy cream (35%)
1 tablespoon pure vanilla extract
Procedure
For the sweet dough, gently warm the milk, butter, brown sugar, vanilla and salt in a small pot. Don't bring to a simmer; warm just enough to melt the butter.
Meanwhile, measure one-half of the flour into the bowl of your stand mixer along with the yeast. Add the warm milk and melted butter mixture to the flour and beat with your paddle attachment until smooth. Add the eggs 1 at a time, beating until smooth before proceeding. Switch to a dough hook and add the remaining flour.
Remove and knead until a soft dough forms that is no longer sticky to the touch, about 5 minutes.
Place the dough in a lightly oiled bowl, cover and let rest in a warm place until dough doubles in size. This could take as long as 2 hours.
For the filling, stir or whisk together the softened butter with the brown sugar and the cinnamon in a mixing bowl.
Once the dough has risen, knock it down and let it rest for a few minutes.
Flour your work surface, the dough, your hands and a rolling pin. Roll out the dough into a long rectangle shape, about 18 x 12 inches (45 x 30 cm), with the long side facing you.
Evenly spread the cinnamon filling all over the top of the dough, leaving 1 or 2 inches (2.5 or 5 cm) uncovered along the top edge. Leaving a border helps the dough stick together when you form the roll.
Roll into a long, tight, cigar-shaped log from the covered long edge to the uncovered long edge. Brush the outside of the log with oil or melted butter.
Slice the dough log into 12 or 16 sections. Turn each on its side and position evenly in a lightly oiled 15- x 10-inch baking pan.
Rest, uncovered, until the dough doubles in size once again and the rolls swell into each other, filling the pan.
Meanwhile, preheat your oven to 350 °F (180 °C).
When the dough has risen a second time, bake for 40 to 45 minutes.
When the cinnamon rolls have cooled enough to handle, stir together the glaze ingredients and drizzle all over the rolls. Serve immediately!
Variation
For an extra special burst of aromatic flavour, add the zest of several oranges into the sweet dough.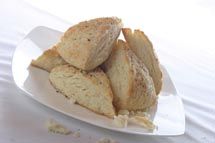 8 years ago
These are my gold-standard biscuits. My secret? Frozen butter! It's an old pastry chef's trick that has served me well. Butter tastes great and when it's frozen it becomes very easy to shred into the dough. After you try these a few times you'll be able to bake them in under twenty minutes and clean up the mess too!
View Recipe
4 years ago
The sweetness of summer berries is incredibly delicious stuffed into a simple sour cream biscuit. This easy-to-make biscuit dough comes together in a snap because you just need to stir sour cream and milk into the works instead of laboriously cutting butter into the dough. This is an easier method than traditional recipes.
Use whichever ripe berries catch your eye while browsing your local farmer's market, u-pick, or your backyard, or use a mix of a few different kinds. Strawberries, raspberries, blueberries, blackberries, even experiment with berries you've never heard of before, like haskap berries. Different berries have different levels of sweetness, so use your best judgment and adjust the amount of sugar to suit your taste buds.
View Recipe