An individual chocolate cake with a molten runny centre is the ultimate dinner party chocolate treat. Slightly underbaking the batter makes each cake come out with its own special sauce hidden inside.
Yield: Makes 6-8 cakes
Ingredients
8 ounces bittersweet or dark chocolate
1/2 cup (1 stick) butter, softened
2 tablespoons cocoa powder
4 eggs
1/4 cup white or brown sugar
1 tablespoon pure vanilla extract
butter for greasing ramekins
white sugar for sprinkling on ramekins
heavy cream, whipped, or ice cream, for serving
Procedure
Preheat your oven to 400 °F (200 °C).
To protect the chocolate from direct heat, melt it and the butter in a heatproof bowl set over a pot of simmering water, gently stirring until they melt together. Remove from the heat and sift in the cocoa powder, stirring until smooth.
Meanwhile, beat the eggs with the brown sugar and vanilla until they are thick and smooth. Pour in the melted chocolate and stir until smooth.
Rub the inside of each ramekin or muffin mould with butter to make a thin film. Lightly sprinkle each with sugar and shake to coat the inside, shaking out any excess. Evenly divide the cake batter among the ramekins.
Place on a rimmed baking sheet and bake until the batter rises, the tops are cracked and the insides are still a bit gooey, no more than 10 minutes.
Cool for a few minutes; the cakes will shrink a bit and pull away from the sides. If necessary, run a paring knife around the edges of the cakes to loosen them. Carefully invert onto a plate. Serve with lots of whipped cream or ice cream.
Variation
For an even more elegant flavour, add the zest of a few oranges into the batter. For a completely different effectmolten vanilla cakestry using white chocolate and doubling the amount of vanilla.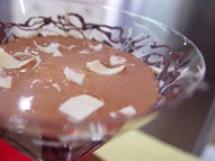 49 years ago
Not all chocolate comes on a plate. How about a chocolate martini!
View Recipe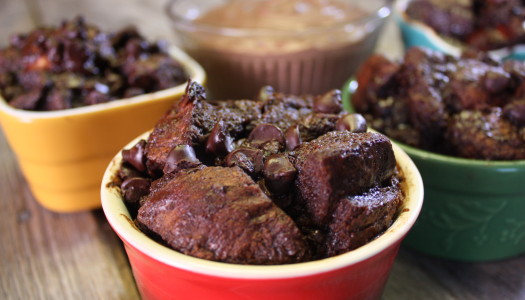 3 years ago
It's fun to try new ideas and it's always fun to freestyle cook. And it's particularly fun to stir every form of chocolate into one bread pudding. I admit sometimes I feel the need to go overboard a little bit and even push some limits, but the kitchen is a really safe place to do that, and a fun place too. Once you know the bread pudding rules, you can break them all day long. Who knows? You might just end up with Five Chocolate Bread Pudding with Chocolate Whipped Cream.
View Recipe