Every kitchen needs a gold standard recipe for chocolate chip cookies. This one has earned its stripes under fire, over many seasons, through countless licked spoons, spilled vanilla and extra chips in the batter. Its quick baking time is the key to addictively chewy cookies that friends and family won't be able to resist.
Yield: Makes about 18 cookies. (depending on size)
Ingredients
1 1/2 cups all purpose flour
1 teaspoon baking powder
1/4 teaspoon salt
1/2 cup (1 stick) butter, softened
1 cup brown sugar
1 tablespoon corn syrup
1 egg
1 teaspoon pure vanilla extract
1 cup chocolate chips
Procedure
Preheat your oven to 375 °F (190 °C).
Whisk the flour, baking powder and salt together and set aside.
Using a stand mixer or a food processor, cream the butter and sugar together until smooth. If you don't have a stand mixer, beat vigorously by hand in a large mixing bowl.
Add the corn syrup, egg and vanilla and continue beating until well combined. Scrape down the bowl and gradually add the flour mixture, beating just until combined. Stir in the chocolate chips.
Using a spoon, scoop out a ball of the dough, roll it for a moment in your hands and then drop it onto a lightly greased cookie tray. Slightly flatten the balls but leave lots of room in between to allow the cookies room to expand.
For a soft, chewy cookie, bake for exactly 12 minutes. For a cookie with a bit of crispy crunch, bake for exactly 15 minutes.
Cool for 2 minutes on the cookie sheet and then remove and cool further.
Variation
For a richer chocolate flavour, add 1 tablespoon of cocoa powder to the dry ingredients.
For an extra special treat, substitute M&M's for the chips.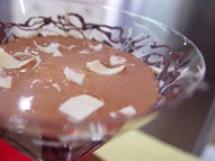 48 years ago
Not all chocolate comes on a plate. How about a chocolate martini!
View Recipe
8 years ago
I'm addicted to chocolate and always look for a way to work it into a treat, especially with coffee. Together they make mocha. This coffee flavoured chocolate cake batter baked in coffee cups looks like a cup of coffee - until you cut into it!
View Recipe