In Italy the biscotti reigns supreme. They're a crunchy treat custom made for dipping in coffee.
Yield: Makes 20 biscottis
Ingredients
1 cup white or brown sugar
1/4 cup (4 Tablespoons) butter, softened
2 eggs
1 tablespoon vanilla extract
2 cups all-purpose flour
2 large spoonfuls cocoa powder
1 teaspoon baking powder
pinch salt
1 cup chocolate chips
Procedure
Preheat your oven to 350 degrees.
Cream the sugar and butter together in a stand-up mixer until light and fluffy. Add the eggs, one at a time and continue to beat for a few more minutes. Add the vanilla.
Whisk together the flour, cocoa, baking powder and salt and add to the mixer. Combine well then stir in the chocolate chips.
Shape the dough with lightly floured hands into a log, approximately 12-inches long and 3-inches wide. You may find it easier to divide the dough in half and form two shorter logs. Place on a parchment-lined baking sheet flatten slightly and bake for 30 minutes.
Remove from oven and cool until you can handle it. Slice diagonally, into 1/2-inch slices and return to the baking sheet. Bake again until the cookies lightly brown, about ten minutes. Flip them over and brown another few minutes. Cool and enjoy with a cup of espresso!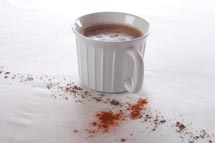 8 years ago
Cocoa powder gives chocolate its rich flavour and makes this steaming mug of hot cocoa my favourite winter treat. A touch of cayenne pepper balances the temperature heat of the brew but doesn't make it too spicy. It's a surprising twist that adds just the right exotic edge.
View Recipe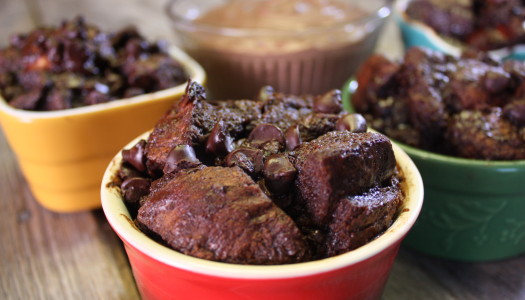 3 years ago
It's fun to try new ideas and it's always fun to freestyle cook. And it's particularly fun to stir every form of chocolate into one bread pudding. I admit sometimes I feel the need to go overboard a little bit and even push some limits, but the kitchen is a really safe place to do that, and a fun place too. Once you know the bread pudding rules, you can break them all day long. Who knows? You might just end up with Five Chocolate Bread Pudding with Chocolate Whipped Cream.
View Recipe