Chocolate has long been used in savoury dishes. The earthy bitterness of cocoa is a natural in rich meaty dishes like beef stew.
Yield: Dinner for 6
Ingredients
2 pounds or so blade pot roast, cut into large chunks
3 tablespoons vegetable oil
3 stalks celery, chopped
3 onions peeled and chopped
3 carrots, peeled and chopped
28 ounce Can of Whole Tomatoes
1 cup beef broth
1 dried Ancho pepper, seeded and chopped
1 tablespoon ground cumin
1 tablespoon ground cinnamon
1 tablespoon dried oregano
2 heaping spoonfuls cocoa powder
2 ounces 70% dark chocolate, chopped
Salt To Taste
Procedure
Dry the beef chunks well with paper towel and heat a large heavy-bottomed soup pot over medium-high heat. Add a thin film of oil and when thin wisps of smoke begin to appear, carefully add a single layer of beef. Patiently sear the beef on all sides adding the unmistakable richness of flavour that can only come from browning. Depending on the size of your pot you may have to do this in several batches so the meat doesn't overwhelm the works and cool the pan. When all the beef has been browned add it back to the pot.
Add the celery, onions and carrots. Add the tomatoes, chopping them a bit with a spoon. Add beef broth, Ancho, spices and cocoa and stir well. Season with salt and bring to a simmer. Continue simmering until the beef is very tender and the broth has thickened, about 1-1/2 hours. Stir in the dark chocolate and serve immediately!
7 years ago
Cooks all over the world rely on the simplicity of gently simmering and transforming tough, flavorful cuts of meat into tender meals. Here's how to create your own tender stew and add some of your own personality while you're at it!
View Recipe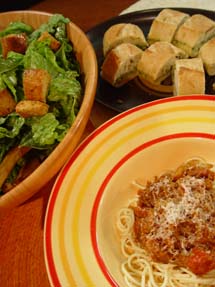 8 years ago
If you're a home cook you need a good meat sauce recipe up your sleeve. This is one of mine. Its secret is that I don't brown the meat. That way it doesn't toughen and need hours of braising to tenderize again. I also use a food processor to save a lot of knife work. Quick, easy and tasty!
View Recipe