Chimichurri is a spicy, vinegar-spiked, pesto-like condiment from Argentina where it's used both as a sauce and a marinade for meat. Its bright flavours reflect the combination of Spanish and Italian influences in Argentina. It's one of the world's great condiments and a great way to add a touch of authentic flair to any grilled meat or fish. You may serve or use as a marinade immediately, but this condiment is at its best after a day or two of refrigeration.
Yield: Makes about 2 cups
Ingredients
a bunch parsley
a bunch cilantro
2 tablespoons chopped fresh oregano
4 cloves garlic
1/2 jalapeno pepper, seeds removed
1/4 cup red wine vinegar
1/2 cup olive oil
a sprinkle or two sea salt
Procedure
Toss the herbs, garlic, jalapeño pepper and red wine vinegar into a food processor and purée until coarsely chopped. While the food processor is running pour in the olive oil until a creamy yet chunky sauce forms. Add salt to taste.
Variation
Try adding an onion or a spoonful of ground cumin seeds for even more flavour.
8 years ago
If you like ketchup as much as I do, you'll love this recipe for homemade ketchup. It's packed with so much aromatic goodness that you'll wonder why you ever used store-bought. It's the best way to jazz up a burger and fries and feel good all the other times you reach for ketchup!
View Recipe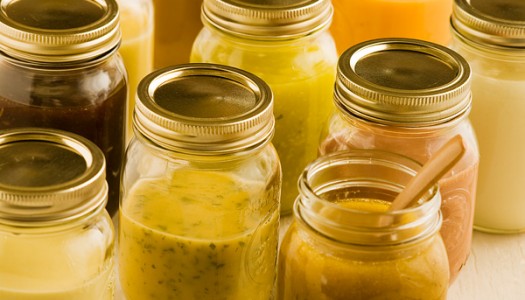 8 years ago
It's easy to make your own personalized salad dressings. The basic ratio of sour, sweet and oil is easily modified and infinitely variable. This recipe makes enough for several salads because it's just as easy to make a lot as a little and, once you taste your own dressings, you won't be able to get enough.
View Recipe