The thighs of a chicken are my favourite cut. They're inexpensive and have way more flavour than the bland breast. I usually braise them because it's easy and they go with just about anything. I love the way they soak up the earthy flavours of the mushrooms in this dish.
Yield: 4 Servings
Ingredients
3 tablespoons olive oil
8 chicken thighs
1 pound cremini or button mushrooms, cut into quarters
2 sliced Portobello mushrooms
2 sliced onions
1 cup chicken stock
1 cup wine, white or red, your choice
dash Salt and Pepper
Procedure
Preheat a large skillet over a medium-high heat then add the oil and a single layer of the chicken thighs. Because you will be adding liquid and lowering the temperature of the chicken, this is the only opportunity you will have to add the rich flavours of caramelized chicken – so be patient. Brown evenly on both sides. When they are done remove and rest on a side plate. Pour off most of the accumulated fat.
Add the onions and mushrooms to the pan. Sauté first until they begin to release their juices then as they start to become golden brown. Place the chicken thighs back into the pan; then add the stock, wine, salt and pepper. Bring to a slow simmer; a boil will toughen the meat. Cover the pan with a tight fitting lid so that no moisture escapes and simmer slowly until the meat is very tender and falling off of the bone, about 45 minutes.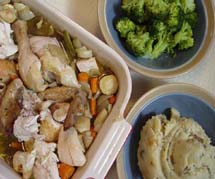 8 years ago
Brining is one of the oldest kitchen techniques in the world; it's a very common way to preserve food with salt. It's also an amazingly simple way to make the juiciest chicken you've ever had!
View Recipe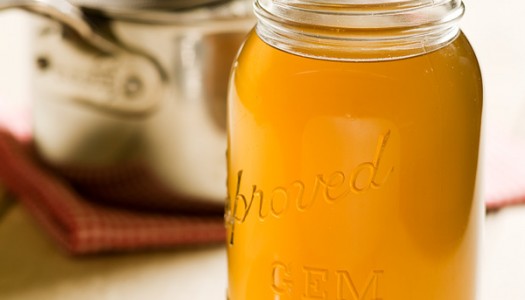 8 years ago
A pot full of simmering chicken broth is the essence of home cooking: true flavour brimming with hearty goodness, ready to launch a thousand other dishes. Try making a batch, dividing it into easily used amounts and keeping them in your freezer, ready for whatever idea comes along. You can use any chicken, but a stewing hen will have the most flavour.
View Recipe