The thighs of a chicken are my favourite cut. They're inexpensive and have way more flavour than the bland breast. I usually braise them because it's easy and they go with just about anything. I love the way they soak up the earthy flavours of the mushrooms in this dish.
Yield: 4 Servings
Ingredients
3 tablespoons olive oil
8 chicken thighs
1 pound cremini or button mushrooms, cut into quarters
2 sliced Portobello mushrooms
2 sliced onions
1 cup chicken stock
1 cup wine, white or red, your choice
dash Salt and Pepper
Procedure
Preheat a large skillet over a medium-high heat then add the oil and a single layer of the chicken thighs. Because you will be adding liquid and lowering the temperature of the chicken, this is the only opportunity you will have to add the rich flavours of caramelized chicken – so be patient. Brown evenly on both sides. When they are done remove and rest on a side plate. Pour off most of the accumulated fat.
Add the onions and mushrooms to the pan. Sauté first until they begin to release their juices then as they start to become golden brown. Place the chicken thighs back into the pan; then add the stock, wine, salt and pepper. Bring to a slow simmer; a boil will toughen the meat. Cover the pan with a tight fitting lid so that no moisture escapes and simmer slowly until the meat is very tender and falling off of the bone, about 45 minutes.
8 years ago
Fried chicken is one of the all-time great comfort foods! For old-school flavour, try using tangy buttermilk and fry in a cast iron skillet. Nothing does a better job maintaining an even heat for crisping the chicken.
View Recipe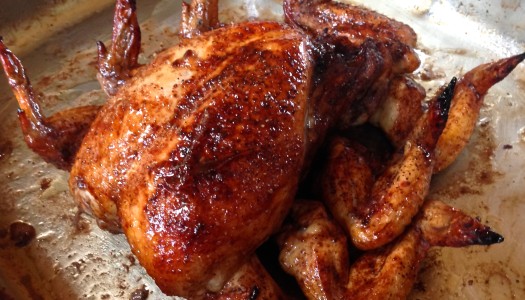 4 years ago
Thrills and chills will abound when you present this chicken to your little ghouls, ghosts and goblins. You'll feel like Dr. Frankenstein putting together your very own monstrous creation, and you'll feel good fuelling your family for an evening of trick-or-treating fun with this simple roasted spider, I mean chicken.
To turn this into a full meal deal, you can roast the chicken over a bed of root vegetables. Cubes of potatoes or carrots, thick slices of onions or whole cloves of garlic are all fair game. They'll soak up the tasty juices that drip off the chicken and give you a complete meal in one pan.
View Recipe