Yield: 8 cups (2 L)
Ingredients
6 cups (1.5 L) of water
2 cups (500 mL) of frozen Canadian wild blueberries
1 cup (250 mL) of freshly squeezed lemon juice
1/2 cup (125 mL) of golden honey
Procedure
1. Place the water, blueberries, lemon juice and honey in a medium size sauce pan on medium heat. Gradually bring to a simmer, stirring to dissolve the honey and break up the blueberry skins.
2. Remove from the heat. With a hand blender or regular blender, process the mixture to a loose purée.
3. Pour through a fine mesh strainer into a pitcher. Capture as many nutrients as possible by pushing on the solids with the back of a spoon or spatula.
4. Place the warm liquid in the refrigerator to chill for approximately 3 hours.
5. Once chilled, taste for sweetness as some lemons are more tart than others. If needed, adjust by adding more lemon juice or honey dissolved in a bit of warmed up juice mixture.
6. Serve over ice with fresh blueberries and slice of lemon. This is wonderful for summer barbecues, picnics or a cool patio drink.
7. And of course you can add vodka to kick it up a notch!
© Chef Thomas Phong-Luu
8 years ago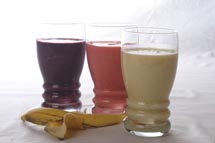 8 years ago
A well-crafted smoothie tastes so good you'll forget it's good for you! It's one of my favourite ways to fill a glass with energy, nutrients and flavour. Use it to kick off your day - everyday - with the goodness of fruit. At heart, it's just flavoured fruit puree so it's easy to make. It's also easy to jazz up with other healthy goodies like flax seed oil, yogurt or berries.
View Recipe