Yield: 8 cups (2 L)
Ingredients
6 cups (1.5 L) of water
2 cups (500 mL) of frozen Canadian wild blueberries
1 cup (250 mL) of freshly squeezed lemon juice
1/2 cup (125 mL) of golden honey
Procedure
1. Place the water, blueberries, lemon juice and honey in a medium size sauce pan on medium heat. Gradually bring to a simmer, stirring to dissolve the honey and break up the blueberry skins.
2. Remove from the heat. With a hand blender or regular blender, process the mixture to a loose purée.
3. Pour through a fine mesh strainer into a pitcher. Capture as many nutrients as possible by pushing on the solids with the back of a spoon or spatula.
4. Place the warm liquid in the refrigerator to chill for approximately 3 hours.
5. Once chilled, taste for sweetness as some lemons are more tart than others. If needed, adjust by adding more lemon juice or honey dissolved in a bit of warmed up juice mixture.
6. Serve over ice with fresh blueberries and slice of lemon. This is wonderful for summer barbecues, picnics or a cool patio drink.
7. And of course you can add vodka to kick it up a notch!
© Chef Thomas Phong-Luu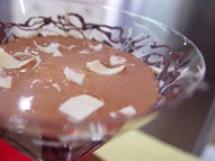 49 years ago
Not all chocolate comes on a plate. How about a chocolate martini!
View Recipe
4 years ago
This cocktail evolved as a homage to my all-time favourite treat, a freshly popped can of chilly root beer. The bar chef's goal is thus to craft a licorice-inspired cocktail by respectfully splashing in a few complementary root flavours. Bitters are prized for their healing properties, brewed and distilled from a powerful combination of nature's flavours and roots.
View Recipe