From Fast Flavours, 2012
This is how a gin and tonic is crafted at our place; our cool, cool summer sipper. My wife, Chazz, is famous for her refined version of the classic backyard cocktail. How do you improve local artisanal gin distilled passionately with aromatics and botanicals from around the world? With local aromatics and botanicals freshly muddle into this crisp new classic.
Yield: 4 cocktails
Ingredients
8 large fresh mint leaves
4 long strips of orange peel
8 juniper berries or 16 needles of local pine, spruce, or fir
Lots of frozen fresh local water
6 oz (175 mL) of your favourite locally distilled gin
2 chilly cans (12 oz/ 355 mL) of premium tonic water
Procedure
Divide the mint leaves, orange peels, and juniper berries among four 1-pint (500 mL) Mason jars with lids. With the wrong end of a wooden spoon, vigorously muddle the works, mashing and bruising the aromatics and releasing their flavours into the glass. Fill the jars halfway with ice. Splash in a generous shot of gin and top with tonic. Shake or stir, serve, and share, sipping through the aromatic remnants.
© Chef Michael Smith, Fast Flavours, 2012
8 years ago
I'm addicted to chocolate and always look for a way to work it into a treat, especially with coffee. Together they make mocha. This coffee flavoured chocolate cake batter baked in coffee cups looks like a cup of coffee - until you cut into it!
View Recipe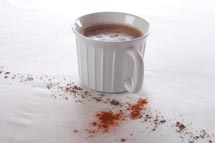 8 years ago
Cocoa powder gives chocolate its rich flavour and makes this steaming mug of hot cocoa my favourite winter treat. A touch of cayenne pepper balances the temperature heat of the brew but doesn't make it too spicy. It's a surprising twist that adds just the right exotic edge.
View Recipe