This classic salad has come a long way since its 1924 invention by Caesar Cardini at his Tijuana restaurant. It's now found on virtually every menu in the country - at home and in restaurants. Since there are as many ways to make it as there are cooks, I don't spend a lot of time worrying about authenticity, just flavour. Here's my version.
Yield: 4-6 Servings (dressing 2 cups)
Ingredients
A half loaf Italian bread
A few generous splashes olive oil
2 heads romaine lettuce
A thinly sliced Red Onion
A sprinkle or two Salt and Pepper
A cup extra virgin olive oil
2 lemons juiced and zested
A few generous splashes of olive oil
A few dashes Worcestershire sauce
A heaping spoonful Dijon mustard
1/2 cup or so grated Parmesan cheese
few cloves chopped garlic
A sprinkle or two Salt and Pepper
Procedure
For the Salad:
Preheat your oven to 350 degrees F. Cut the bread into cubes and toss with enough olive oil to lightly coat each one. Spread the cubes in a single layer on a baking sheet and bake until golden brown and crisp, about fifteen minutes.
Tear the lettuce into bite-sized pieces and toss with the onion and a half-cup or so of the dressing. Sprinkle the croutons on top and season.
For the Dressing:
Mix everything together until smooth dressing forms. A blender, food processor or an old-fashioned whisk and bowl all work well but I prefer my immersion blender. It's easier to clean up!
3 years ago
This is my favourite way to toss together the amazing flavours of a Niçoise salad and skip the traditional fussy arrangement of the ingredients. My kids aren't big fans of visible anchovies and don't know that they're hidden in the powerfully flavoured dressing loaded with tangy lemon, bright parsley and aromatic basil. They just know they love this salad and I love that it's a whole meal in a bowl!
View Recipe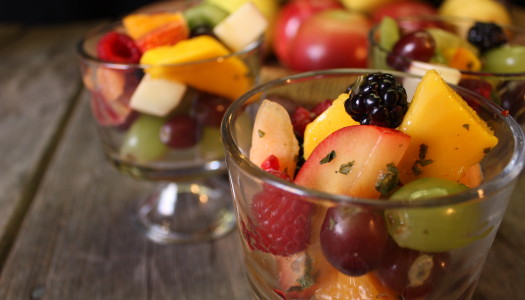 3 years ago
I love fruit. I live for fruit. I'm powered by fruit! When fruit is properly ripened, it can be one of the best things to eat, so when you combine all your favourites together in a fruit salad, it can be a revelation.
How about balancing all that sweet with some sour lime, spicy chilli and cooling mint? Or what about using a secret ingredient that pairs perfectly with fruit? No one will ever know that it's vanilla adding that mysterious yet familiar flavour.
View Recipe