One of the Holy Grails of vegetarian cooking is a meat-free burger that's tasty, nutritious, full of protein, easy to make and easy to handle. Without the strong protein structure of meat, or the scientific hijinks of processed burgers, it can be tricky to get vegetarian burgers to hold together. This burger uses the strength of bulgur wheat and will easily become one of your favourites.
Yield: 6 large or 8 small burgers
Ingredients
2 tablespoons any vegetable oil
1/2 pound fresh shiitake mushrooms, stems removed and sliced
2 onions, chopped
4 cloves garlic, minced
2 cups water
1 cup bulgur wheat
2 tablespoons soy sauce
2 eggs
2 tablespoons miso paste
1 cup breadcrumbs
1 19 ounce can black beans, drained and rinsed
1 tablespoon minced fresh thyme
a sprinkle or two sea salt and freshly ground pepper
Procedure
Splash the oil into a saucepan over medium-high heat. Add the mushrooms, onions and garlic. Sauté until the mushrooms lose their moisture and the onions caramelize, about 20 minutes. This step is one of the keys to the mixture; it is important to cook out as much moisture as possible so the burger will hold together.
Add the water, bulgur and soy sauce. Cover with a tight-fitting lid and cook over low heat until the bulgur is tender and has absorbed all the liquid, about 20 minutes.
Pour the mixture onto a plate or tray and let it cool to room temperature.
When cool, transfer the bulgur-mushroom mixture into the bowl of your food processor. Add the eggs, miso paste, breadcrumbs, black beans, thyme and salt and pepper. Purée until smooth.
Form the mixture into evenly shaped patties about 1 inch (2.5 cm) thick. Refrigerate until firm, about 1 hour.
Preheat your barbecue on its highest setting.
Lightly brush the burgers with oil and grill until they are cooked through and caramelized a bit. Alternatively, you may pan sear them in a lightly oiled preheated pan or simply bake them at 400 °F (200 °C). Enjoy with your favourite burger toppings.
Variation
Try substituting a spoonful or two of chili powder for the fresh thyme.
7 years ago
This is one of my favourite side dishes because bacon and lentils are perfect together. The rich meatiness of bacon easily complements the earthy hearty flavours of lentils. Try making this dish once and it will instantly become one of your favourites too!
View Recipe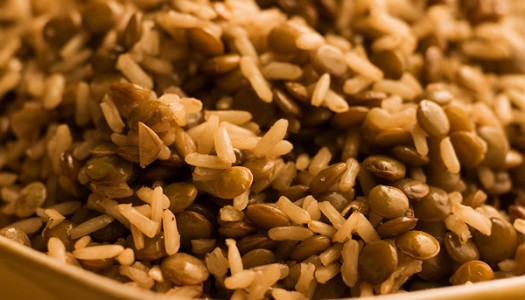 8 years ago
Rice is a grain, lentils a legume. Combine the two and you have a perfect source of vegetarian protein. Of course, you don't have to be a vegetarian to enjoy the wholesome, tasty richness of this healthy duo.
View Recipe