Brunch Bake
Yield: Makes 4-6 servings
Ingredients
8 eggs
1 1/2 cups milk
1/2 loaf whole grain bread, cubed and toasted
8 small breakfast sausages, sliced
1 large onion, sliced
1 cup grated cheddar cheese
3 sprigs fresh tarragon
Salt and Pepper
Procedure
Preheat oven to 350 degrees.
Place a large skillet over medium-high heat and add sausages and onions. Sauté until golden brown.
Meanwhile, whisk eggs together with milk and season with salt and pepper. Add cheese, bread cubes, sausage and onion mixture and tarragon. Pour into a lightly oiled 9″ by 9″ baking dish and bake for 35 minutes or until set.
8 years ago
This favourite flavour is often our first heat, the first cooking of the day for my family. A batch of these pancakes is a great way to spin a strong dose of whole grains into a get-out-of-bed treat and to kick-start a nutritious day.
View Recipe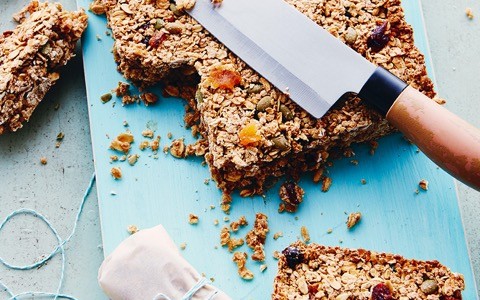 3 years ago
Need a little mid-morning or mid-afternoon boost? Skip the candy aisle and instead stir whole-grain goodness into a batch of these super-simple, super-tasty granola bars. Artfully wrap and tie individual bars for some added flairand lovingly tuck a handwritten note inside.
View Recipe