Bread pudding is a simple way to transform stale bread into a wide variety of simple treats. Bread puddings are versatile, easy to make and supremely tasty. They are one of my favourite comfort foods.
Yield: Serves 8
Ingredients
1 pound stale bread, cut into cubes
1 cup raisins or other dried fruit
3 cups milk
4 eggs
1 cup white or brown sugar
1 teaspoon ground cinnamon or your favourite baking spice
1 tablespoon pure vanilla extract
2 tablespoons coarse sugar
Procedure
Preheat your oven to 350 °F (180 °C).
Toss the bread and raisins into a large bowl.
In a separate bowl, whisk together the milk, eggs, your choice of sweetener, your favourite spice and the vanilla. Pour the mixture over the bread and stir until the bread is coated. At first, the bread will float on the milk mixture, but after a few minutes it will begin to absorb it and sink.
Let rest for 15 minutes or so and then pour it into a 9-inch square lightly greased ovenproof casserole dish. Sprinkle coarse sugar overtop and bake until the eggs set, the pudding firms and the top is golden brown, about 1 hour.
Variation
For lots of extra flavour, take the time to toast the bread until golden brown. For an extra special touch, try using challah, brioche or croissants. You may use honey or maple syrup instead of sugar, and you may replace the cinnamon with the baking spice of your choice. Ground cardamom, nutmeg, ginger, allspice or cloves all work well.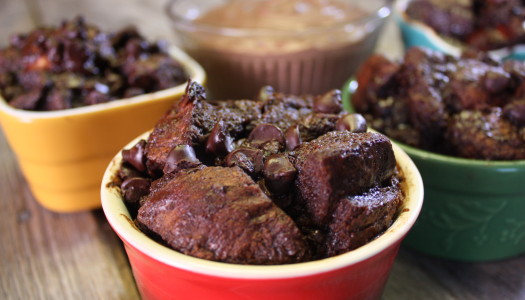 3 years ago
It's fun to try new ideas and it's always fun to freestyle cook. And it's particularly fun to stir every form of chocolate into one bread pudding. I admit sometimes I feel the need to go overboard a little bit and even push some limits, but the kitchen is a really safe place to do that, and a fun place too. Once you know the bread pudding rules, you can break them all day long. Who knows? You might just end up with Five Chocolate Bread Pudding with Chocolate Whipped Cream.
View Recipe
3 years ago
Who said baking a homemade dessert has to be difficult? Not me. This dessert could not be simpler and is fully customizable. It has 2 basic parts - the apple filling and the oatmeal topping. Choose any type of apple (or a combination), your favourite fresh or frozen berry, and any of the baking spices. Ginger, nutmeg, allspice, cloves, or simply cinnamon all work.
View Recipe