The only thing better than a grilled NY steak, is a grilled NY steak sitting next to a twice baked potato. Especially when its' oozing with Boursin cheese, bacon and sharp horseradish! Did I mention the bacon?
Yield: 4
Ingredients
4 large baking potatoes (about 10 oz/300 grams or so)
8 slices bacon, chopped
1/2 cup water
4 green onions chopped
4 heaping Tablespoons horseradish
1 wheel Boursin Cheese (French cream cheese)
1/2 teaspoon salt
lots of freshly ground pepper
Procedure
Bake the potatoes at 400 °F (200 °C).
While they're baking, cook the bacon in a heavy saucepan with water. As the water evaporates the bacon will cook and then crisp evenly, about 10 minutes. Set aside, reserving the fat. As soon as the baked potatoes are cool enough to handle, slice off the top, gently scoop the interior flesh into a bowl, and carefully reserve the shells. To the mash add cheese, onions, bacon, horseradish, salt and pepper and mix until smooth. Stuff this mix back into your potato shells and bake until they're golden brown on top, about 20 minutes or so.
Use this time to grill your steak just the way you like it and cozy it up to your twice-baked masterpiece!
Serve and wait for the accolades.
Chef Michael's Kitchen
© Chef Michael Smith
Variation
Freestyle Twist: It's easy to add your own twist by changing up the cheese or adding fresh herbs to the mashed potato. Havarti, Gouda, goat or even blue cheese paired with fresh thyme, rosemary or tarragon will bring a whole new flavor experience to your plate!
48 years ago
Here's a tip older than my grandmother: Potatoes absorb the most flavour when they're still warm.
View Recipe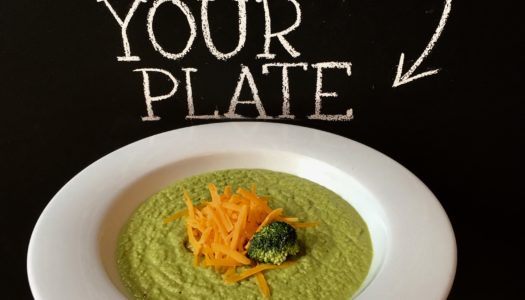 1 year ago
There's nothing quite like a steaming hot soup bowl brimming with intense vegetable goodness. But not a fan of pale promises? Vegetable soup that's more filler than flavour? No worries. You can fill more than Half Your Plate with true broccoli flavour by following this super simple recipe.
As with any simple soup recipe a few easy options are included too:
>Bacon and cheddar for even deeper flavour that's guaranteed to satisfy any picky veggie-averse eaters.
>Your choice of liquid so you can control how rich the results are.
>How to make a pure vegetarian version.
View Recipe