Foccacia is essentially a large slab of bread baked with lots of savoury Mediterranean flavours both in and out of the dough. Herbs, cheese, olives. Tasty.
Yield: Makes 4-6 servings
Ingredients
1 cup warm water
2 teaspoons yeast
3 cups all purpose or bread flour
1 tablespoon sugar
1 teaspoon salt
4 tablespoons olive oil
Coarse sea salt and freshly ground pepper
1 tablespoon chopped thyme
24 calamata style black olives, pitted
Procedure
Pour the water into the bowl of a stand up mixer fitted with a dough hook and sprinkle in the yeast. Add 1 cup of the flour and the sugar then stir to combine. Let rest for ten minutes or so, until the yeast activates and bubbles appear on surface.
Add the rest of the flour, salt, olive oil, pepper, thyme and olives and mix well until dough begins to form a ball. Continue kneading for a few minutes until the dough is smooth and elastic. Place in a large, oiled bowl, cover with a towel, and rest in a warm place until the dough doubles, about 1 hour.
Lightly oil your hands then knock down the dough, pressing the air out of it. Knead a few times and then place dough onto an oiled baking sheet. Pull and press dough across pan until if forms a large, flattened circle and vigorously poke dimples into it with your fingertips. Drizzle with olive oil, coarse salt and pepper and let rise a second time until it doubles again, about 30 minutes.
While you wait preheat your oven to 400 degrees. Place in oven and bake until it has formed a golden crust, but is still soft in the centre, about 10-15 minutes.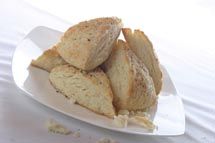 8 years ago
These are my gold-standard biscuits. My secret? Frozen butter! It's an old pastry chef's trick that has served me well. Butter tastes great and when it's frozen it becomes very easy to shred into the dough. After you try these a few times you'll be able to bake them in under twenty minutes and clean up the mess too!
View Recipe
4 years ago
The sweetness of summer berries is incredibly delicious stuffed into a simple sour cream biscuit. This easy-to-make biscuit dough comes together in a snap because you just need to stir sour cream and milk into the works instead of laboriously cutting butter into the dough. This is an easier method than traditional recipes.
Use whichever ripe berries catch your eye while browsing your local farmer's market, u-pick, or your backyard, or use a mix of a few different kinds. Strawberries, raspberries, blueberries, blackberries, even experiment with berries you've never heard of before, like haskap berries. Different berries have different levels of sweetness, so use your best judgment and adjust the amount of sugar to suit your taste buds.
View Recipe