Berry Pudding
Yield: Makes 4 servings
Ingredients
for the Pudding
1 pound frozen berries; blueberries, rasperries or strawberries or any combination
2 cups orange juice
4 tablespoons cornstarch
for the cream sauce
1/2 cup whipping cream (35%)
2 tablespoons raspberry jelly
Procedure
For the pudding:
Bring berries and juice to a simmer over medium heat. Strain through a fine mesh sieve into a clean bowl, add back to the pot and bring back up to a simmer.
Mix a slurry with the cornstarch a splash of water. Stir slurry into the strained berries until thickened. Pour into 4 serving glasses or ramekins and chill for at least 1 hour or even overnight.
For the Berry Cream Topping:
Whip cream and jelly together. Serve on top of Berry Pudding.
8 years ago
Commercial chocolate sauces are a pale imitation of the real thing and usually don't include any real chocolate. An old-school batch of real chocolate sauce is easy to make, easy to use and an easy way to saturate any treat with lots of rich, true, chocolate flavour. Try not to eat too much of this sauce straight out of the jar!
View Recipe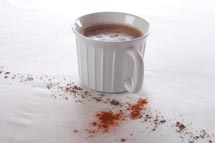 9 years ago
Cocoa powder gives chocolate its rich flavour and makes this steaming mug of hot cocoa my favourite winter treat. A touch of cayenne pepper balances the temperature heat of the brew but doesn't make it too spicy. It's a surprising twist that adds just the right exotic edge.
View Recipe