Berry Pudding
Yield: Makes 4 servings
Ingredients
for the Pudding
1 pound frozen berries; blueberries, rasperries or strawberries or any combination
2 cups orange juice
4 tablespoons cornstarch
for the cream sauce
1/2 cup whipping cream (35%)
2 tablespoons raspberry jelly
Procedure
For the pudding:
Bring berries and juice to a simmer over medium heat. Strain through a fine mesh sieve into a clean bowl, add back to the pot and bring back up to a simmer.
Mix a slurry with the cornstarch a splash of water. Stir slurry into the strained berries until thickened. Pour into 4 serving glasses or ramekins and chill for at least 1 hour or even overnight.
For the Berry Cream Topping:
Whip cream and jelly together. Serve on top of Berry Pudding.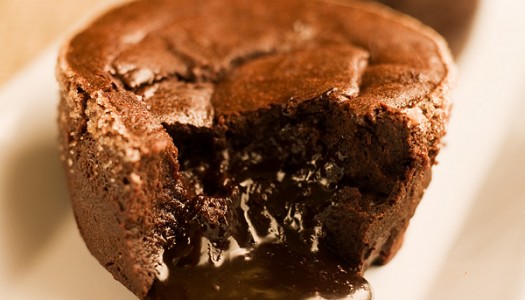 49 years ago
An individual chocolate cake with a molten runny centre is the ultimate dinner party chocolate treat. Slightly underbaking the batter makes each cake come out with its own special sauce hidden inside.
View Recipe
4 years ago
This treat is so rich and deeply delicious that no one will know you took a shortcut! The secret is the custard-like texture of silken tofu.
View Recipe