Over the years I've tried experimenting with many additions to the classic burger, and I've discovered that most just don't work. One thing that does work is shredded meat from a tender beef stew. It adds a rich layer of beefy flavour and texture that I love! Just the thing to serve with my all-time favourite spud, smashed potatoes!
Yield: 6 Servings
Ingredients
2 pounds ground beef
1 minced onion
1 cup shredded beef, from leftover beef stew or canned beef stew, optional
2 tablespoons dried oregano
sprinkle Salt and Pepper
6 ounces blue cheese, crumbled
6 large buns, sliced in half
6 baking potatoes
6 tablespoons extra virgin olive oil
2 tablespoons whole fennel seeds
Salt and Pepper
Procedure
For the burgers:
Preheat barbecue grill on high for 15 minutes. A clean hot grill will lessen the chances that the burgers will stick. Meanwhile place the beef, onion, stew meat and oregano in a large bowl then season with salt and pepper. Mix well and form into 6 large patties.
Grill for 8 minutes per side, until well done. Sprinkle cheese onto patties during last 2 minutes of cooking to melt. Toast the buns on the grill until golden brown. Top with lettuce and tomato and dig in.
For the potatoes:
Preheat oven to 375 degrees F (190 degrees C). Place potatoes on a baking tray and bake for 45 to 60 minutes, until tender.
Turn oven up to 450 degrees F (230 degrees C). Push down on the baked potatoes with a potato masher or small plate so that they crack open and are flattened, doubling in diameter. Drizzle liberally with olive oil and sprinkle with fennel seeds and salt and pepper. Bake until golden and crisp about 15 to 20 minutes more.
7 years ago
Cooks all over the world rely on the simplicity of gently simmering and transforming tough, flavorful cuts of meat into tender meals. Here's how to create your own tender stew and add some of your own personality while you're at it!
View Recipe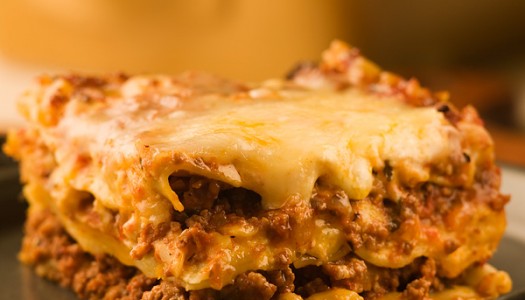 8 years ago
The best lasagna is made with two different sauces: a tomato sauce and a cheese sauce. It's the sort of dish that's worth taking the time to make it right, but that doesn't mean you have to slave away in the kitchen for hours. There are lots of ways to speed up the process and still enjoy spectacular results!
View Recipe